PayPal Betting Sites
Introducing PayPal - The Oldest e-Wallet Company
PayPal is perhaps the most famous e-wallet on the planet. It is certainly the oldest and has developed a strong following all over the world. As one of the most reliable e-wallet systems yet invented, it is widely used for everything from online gift shopping to invoicing clients.
Given PayPal's popularity, it is inevitable that sports betting punters would begin to demand the opportunity to use it to make their bets, and now this quick, reliable payment method is widely employed in the betting world.
Topics on this page
A Quick History
PayPal may be the oldest e-wallet company in the world, but it was originally known by a different name. Set up as Confinity in 1998, it was a small start-up focusing mainly on software development, but a year after its creation, the company took its first steps into online money services and has never looked back. It quickly gained a strong following, building up a reliable and trusted payment service, and received a major boost when it struck a deal with eBay to be the site's main payment provider. After a merger in 2001, Confinity became PayPal, and in 2002, eBay purchased it for $1.5 billion.
*18+ T&Cs Apply!
Online Betting with PayPal
PayPal was not the first e-wallet provider to work with the betting industry, but its reputation as a secure and reliable financial transaction service has enabled it to rapidly establish a strong position among sports betting fans, and a wide range of betting sites accept this payment method.
One of the advantages that sports punters have found with using PayPal betting sites is that the PayPal reputation for security and safety offers a great deal of reassurance. The company has two decades of experience in providing reliable banking services, handling millions of transactions every day, and that means that any sports betting customer can be sure they are in safe hands when they use a betting site that accepts PayPal.
Is PayPal Safe?
It is usually a good idea to be sceptical about the claims that any company makes about its services, but in the case of PayPal, sports betting customers should be reassured. When you bet through this company with any of the many betting companies that use PayPal, you are benefitting from one of the most experience online finance companies in the world.
With its roots in software development, PayPal has followed technological developments from the beginning of the internet revolution and has built up considerable experience of financial transaction security through its work with eBay. In total, PayPal offers six levels of security measures to ensure that each individual financial transaction it process goes through safely. In fact, the level of security available rivals any that you will find in the banking industry. So, when you use it to bet with your bookmaker, you are using one of the safest payment methods around.
PayPal Sports Betting Services
When you choose one of the many betting websites that use this payment platform and opt for a PayPal deposit, you will be able to benefit from a range of services, including their secure encryption technology, their excellent dispute resolution service, and a monitoring and fraud prevention system that is one of the most stringent in the world.
A betting website that uses this payments method will make it possible for you to deposit and top up your account with PayPal, and there will rarely be any charge for this service. Most online sportsbooks also offer welcome bonuses or other betting promotions when you sign up for a new account with them, and some also offer bonuses for new punters who choose to use this e-wallet, as they often want to encourage their customers to try this payment method.
It is also worth noting that transferring money from your bank account to PayPal usually doesn't attract a fee, which makes it a convenient method of funding a sports betting account, although you should always make sure that your bank isn't one of the rare exceptions to this rule.
How Does PayPal Work?
So, does betting with PayPal work? The process is easy. But first, you will need to head to the site to sign up and create your account. This will require you to provide some personal details, an email address and banking details related to the account that you will use to put money onto PayPal. You will also be asked to choose whether to set up a business or a personal account, and there are some additional verification procedures which are straightforward.
The final stage before you can start using your account is to link it to your nominated bank account. This process is completed through a test deposit and withdrawal process in which money is taken out of your bank account and then re-deposited. This is a quick and easy method of linking your account and can be initiated by clicking on the 'Add Money' link on your PayPal account page.
Deposits and Withdrawals
To make your first deposit through PayPal, all you have to do is head to the payment section of the relevant page on your bookmaker's website. You will then have the opportunity to fill out the details of the money you want to deposit. After clicking on the relevant icon to initiate the transaction, you will be automatically directed to the site where you will need to log into your account.
The beauty of using PayPal to make sports betting transactions is that you don't have to fill in any of the details on their site. As soon as you click on the relevant icon on the sportsbook site, the details of your transaction will appear on the PayPal page, and all you will have to do is to approve the transaction, which will go through instantaneously, enabling you to bet straight away.
The withdrawal process is just as simple. Navigate to the payment section on the sportsbook site and opt for PayPal to make your withdrawal. Simply enter the full amount of money that you wish to withdraw and click on the relevant icon to proceed. You should also note that some bookmakers will require you to re-enter your password before the transaction goes through.
PayPal Cash Service
Sports betting fans can also use another handy PayPal service to fund their sports betting accounts. The PayPal cash service enables you to put money into your e-wallet through a local vendor. Instead of choosing a bank account, you can opt for a relevant vendor, and you will be given a code relating to the transaction. Your e-wallet will be credited as soon as you have made the deposit, though it is important to remember that some vendors will charge a fee for this service.
Fees and Security with PayPal Betting
Security is paramount when you are making any kind of financial transaction online, and that particularly applies to betting. PayPal's high quality of security, which has been tested over many years, is a major attraction for sports betting fans. The company employs the latest financial security technology to keep your money safe, and it also complies with all of the relevant international rules on data protection and security, so your details are always secure.
The other attraction of using PayPal for sports betting is that there are no fees associated with using money to bet with a sportsbook. In fact, whether you are withdrawing your winning from a sportsbook or making a deposit, PayPal will not charge you a fee. The only time that you will be charged is when you withdraw money onto your bank account, at which point the company deducts a small commission charge.
Speed and Customer Service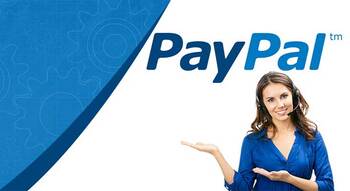 The other main advantages of using PayPal to fund your sports betting are speed and the quality of customer service you can benefit from. Deposits are instant, while withdrawals are processed within 24 hours. That is a huge difference from the time scale that applies to traditional banking methods such as credit cards or bank transfers, which can take up to 5 days to go through.
And PayPal also offers a high quality of customer service. You can contact their customer support team through a range of methods, and their response is usually swift and effective. A high level of customer service is necessary for the company to compete in the crowded online financial market, and PayPal provide one of the best customer support products any sports bettor will find.
Fast and Convenient for Sports Bettors
There are many ways for sports betting fans to make deposits and withdrawals, but PayPal is one of the most popular, and with good reason. It offers fast, secure and reliable banking transactions, which is why all the best online sportsbooks give punters the option of using PayPal with their account, and why this popular e-wallet solution is increasingly used by sports bettors of all levels.
Other recommended payments