Matched Betting Strategy
Best Matched Betting Sites to Turn Free Bets into Surebets
Over the years, punters have had to be increasingly inventive to find ways to beat the old enemy - the bookmaker. That hasn't changed despite the fact that most betting is now done online. In the internet betting era, finding an edge can be hard, but there are ways to increase your winning chances, and one of the most interesting, that has emerged in recent years, takes advantage of online bookmakers' desire to attract new customers. It's called Matched Betting.
BOOKMAKER
DETAILS
REGULATION
LIVE
APP
CASH
OUT
BONUS
REVIEW

bet365

Live Streaming**
Customer Support 24/7
Increased odds

18+

gamblingcommission

ibas

£30

in free bets

Claim Offer
bet365 Review
*New Customers only. Registration required. Bet £10* & Get £30* in Free Bets. Sign up, deposit between £5* and £10* to your account and bet365 will give you three times that value in Free Bets when you place qualifying bets to the same value and they are settled. Free Bets are paid as Bet Credits. Min odds/bet and payment method exclusions apply. Returns exclude Bet Credits stake. T&Cs, time limits & exclusions apply. **Geo restrictions apply. Funded account or bet placed 24 hours prior to event required to access, #AD

Betfair

Betting Exchange
Live results
Live Streaming

18+

gamblingcommission

mga

£100

in free bets

Claim Offer
Betfair Review

Unibet

Unibet TV
Stats & Livescore
Horse racing

18+

gamblingcommission

egba

£40

money back

Claim Offer
Unibet Review
*18+ T&Cs Apply!
Topics on this page
Introducing Matched Betting
In fact, Matched Betting is also sometimes known as Bonus Arbing, for reasons that will become obvious, but Matched Betting is the most common name for this tactic.
The beauty of this strategy is that it takes advantage of a weakness for bookmakers. The modern online sports market is so competitive that the only way that many sportsbook operators feel they can compete is to offer as many welcome bonuses or free bet offers as they can. Bookmakers are attempting to outdo one another by offering the most generous deals. And it is that desperation to attract new customers that the matched betting punter tries to exploit.
What Is Matched Betting?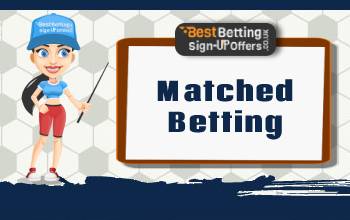 There are numerous matched betting sites online promoting this approach to placing bets, but they all operate on the same basic underlying principle. When you employ this strategy, you are aiming to profit by taking the free bonuses and special promotions provided by bookmakers and matching them against a balancing bet on a betting exchange. This results in low-risk or even zero-risk profit, whatever the outcome of the event that you are betting on.
The difference between matched betting and traditional arbitrage betting is that the value, in this case, doesn't come in finding price discrepancies, but in the bonus offers. This is why matched betting is often known as bonus arbing, as it has some of the characteristics of arbitrage betting.
Matched Betting Guide - Basic Principles
There are two main stages to a matched bet, but before you begin, it is important to understand the key aspect to this technique, which is the betting exchange.
Betting Exchanges and Matched Betting
Quite simply, without the betting exchange, there could be no matched betting. Exchanges have added a new dimension to online sports betting. Beginning with the first exchange, Betfair, which started operations at the beginning of the 2000s, betting exchanges have provided punters with the ability to play bookmaker and lay bets; that is, to take bets from other punters, instead of being confined to backing their selections, as they are with regular bookmakers.
Punters who open up sports markets in an exchange will be presented with both a back price and a lay price (which is always slightly higher) on each selection. The exchange also shows how much money is available to either back or lay a selection at every price. And, as money enters the market, the prices change. Some punters attempt to profit by trying to predict the rises and falls in the market, backing a selection at a high price and laying it when the price falls. While that strategy can be successful, matched betting is a simpler approach.
How to Match Bet: Stage One
To carry out a matched betting strategy, you need to have access to an exchange site. Once you've set up your betting exchange account, which usually involves providing personal information details and can also require you to provide identification documents, you are ready to start.
Look for a bookmaker that is offering a good free bet bonus. Sign up with the bookmaker, which will usually involve the same steps that you went through with the betting exchange, and then make a bet that will qualify for the bonus offer. This will usually involve placing bets on certain markets at a certain price in order to trigger the free bet amount.
At this stage, the aim is simply to avoid losing money with this bet. So, a punter will be looking for a bet that is the same price on the exchange as it is with the bookmaker. Once they've found such a selection, punters will back it with the bookmaker, thus qualifying for the free bet, and then lay it at the same price on the betting exchange, ensuring that, whatever happens, they won't lose any money at stage one before they move on to stage two.
Stage Two
Having made your qualifying bet with the bookmaker, you now have a free bet of the same amount and you are ready to proceed. Stage two involves using your free bet with the bookmaker. Find a bet that is also available on the betting exchange, then back your selection on the bookmaker's site. The final step is then to lay that bet on the betting exchange. And, as with arbitrage betting, it is possible to calculate your bets in such a way that you make the same profit for either outcome.
Matched Betting for Dummies - Example Explained
To help you get to grips with how matched betting works, let's take a hypothetical example.
Assuming that you have signed up with a betting exchange, you then look for appropriate free bet offers. Let's say you found a $25 free bet offer on a bookmaker site. The next step is to sign up with the site, and then look for a suitable qualifying bet. The free bet offer will explain what the qualification terms are, but in this case, let's say it is restricted to Premier League football bets.
Having studied the Premier League market, you decide that you are going to bet on Liverpool to beat Manchester City at 3.0. Before you make a bet, you check on your betting exchange what the lay price for Liverpool in this match is and find that it is also 3.0.
You make your $25 bet on Liverpool with the bookmaker and then lay Liverpool for $25 on the exchange. Whatever the outcome of the game, you will finish even.
You have now qualified for your free bet. The next stage is to find another bet with the same bookmaker. Let's say you identify Arsenal as a good bet at 3.0 to beat Chelsea. You use your free bet to back Arsenal for $25 at 3.0, then head to the exchange and lay them for $16.67. Your potential returns based on the two possible outcomes are as follows:
Arsenal win the game
Win $50 with the bookmaker
Lose $33.34 with the exchange
Profit $16.66
Arsenal don't win the game
Win $16.67 with the exchange
Lose $0 with the bookmaker (because the bet was free)
Profit $16.67
As you can see, by using a matched betting strategy, you have successfully guaranteed a profit, whatever the outcome of the match, which is an ideal scenario.
Is Matched Betting Legal and Safe to Use?
As it differs from the traditional model of gambling, some punters have concerns about the legality of matched betting, particularly if they've heard stories of bookmakers closing the accounts of people using their free bet offers in this way. But here it is important to remember that just because bookmakers don't like something, that doesn't make it illegal! In fact, there is nothing illegal about matched betting. As long as you are over the age where you are legally able to bet, there is no reason to be concerned about matched betting from a legal point of view.
What Do Bookmakers Think about This Tactic
While there are no legal issues associated with matched betting, that doesn't mean that bookmakers won't try to make it harder for you. They don't like people using their free bet offers in this way, because those offers are designed to attract new regular customers, not to help people make a profit from matched betting. Online sportsbooks have a number of options when it comes to trying to prevent punters from operating a matched betting strategy. These include:
Account closures
Restricting accounts
Restricting access to promotions
Any online sportsbook operator can take these steps if they wish, and when it happens, it can be frustrating, but those who regularly operate a matched betting strategy are aware of the risk of having their accounts restricted or closed. And, fortunately, there are so many online sportsbooks out there that even if an individual punter experiences one or two account closures, there will still be plenty of opportunities to use the strategy in search of profit.
The Betting Exchanges' Side of the Story
Unlike traditional bookmakers, betting exchanges don't have a problem with matched betting. After all, it is the exchange model, with its ability to lay bets, that makes this strategy possible. But the main reason is that exchanges essentially make their profits by winning bets. Every time you have a winner, they take a small percentage as commission, and since matched betting involves adding liquidity to their markets, they have no reason to dislike the strategy.
Disadvantages You Need to Consider
While having your sportsbook account restricted can be an inconvenience, there are potentially more significant disadvantages to matched betting of which you should be aware.
Time to Master
Like any type of strategy for laying bets, matched betting takes some time to get to grips with. However, as free bets tend to be offered to new customers, there are only a finite number of opportunities to put it into practice, which means matched betting punters have less margin for error when it comes to learning the skills necessary to make this strategy work.
That's why before embarking on any matched betting approach, it is a good idea to study it fully and carefully and to develop a clear and focused method to cover all the possible eventualities that may arise while operating it.
Time to Implement
Punters may find the concept of this technique presented to them as though it was a get-rich-quick scheme. While there are aspects of the strategy that is extremely attractive and it is certainly the aim of matched betting to engineer situations where you can't fail to make a profit, that doesn't mean that it is a guarantee of profit. Like any other form of betting method or strategy, it requires skill, hard work and time.
In order to spot the best opportunities, you need to have the time to scour the internet looking for suitable offers and bets. There is also the requirement to be regularly involved in opening accounts with different online sportsbooks. All of this means that matched betting is no different from other types of wagering in that you can't expect to make a quick profit without work.
Wagering Requirements
Some sites that encourage punters to undertake matched betting as a regular strategy don't always mention the potential drawbacks, one of the most significant being the wagering requirement. This is part of the terms and conditions for any free bet offer. Before you can withdraw any winnings earned through a free bet, you will have to 'play through' that money a certain number of times. This playthrough figure will vary from bookmaker to bookmaker, but it is rare to find a free bet offer that doesn't include some form of wagering requirement.
Why does this matter? Well, if you remember, a matched bet involves two parts: a back bet (using a free bet) with a bookmaker and a lay bet on a betting exchange, with the lay bet being made to an amount that should guarantee a profit. If the lay bet turns out to be the successful half of the overall bet, then there is no problem. But if the back bet is the winner, you won't be able to access the money you won until you have satisfied the sportsbook's wagering requirements.
While this doesn't invalidate the matched betting approach, it is an important aspect that should be borne in mind by any punter planning to implement this strategy.
A Handy Addition to your Portfolio
Taking into account all of the potential pitfalls outlined above, matched betting remains an interesting option for sports punters. Although there can be disadvantages to this strategy, it does offer an innovative way to take advantage of both the ability to lay selections provided by betting exchanges and the abundance of free bets provided by online sportsbooks. With careful preparation and hard work, this strategy can make a useful supplement to your regular betting tactics.
Other Betting Types