Staking Plans for Betting
Do We Need a Staking Plan for Betting on Sports
You might be surprised how many sports punters think they can make a profit out of betting on sport without any kind of staking plan. But in case you are tempted to ask the same question, consider how stock market investors or entrepreneurs operate. Would they wade into an investment or a trade without a plan or a clear idea of how much money they should risk extracting the maximum benefit? Betting is no different and having a staking plan is a key part of any betting strategy.
BOOKMAKER
DETAILS
REGULATION
LIVE
APP
CASH
OUT
BONUS
REVIEW

bet365

Live Streaming**
Customer Support 24/7
Increased odds

18+

gamblingcommission

ibas

£30

in free bets

Claim Offer
bet365 Review
*New Customers only. Registration required. Bet £10* & Get £30* in Free Bets. Sign up, deposit between £5* and £10* to your account and bet365 will give you three times that value in Free Bets when you place qualifying bets to the same value and they are settled. Free Bets are paid as Bet Credits. Min odds/bet and payment method exclusions apply. Returns exclude Bet Credits stake. T&Cs, time limits & exclusions apply. **Geo restrictions apply. Funded account or bet placed 24 hours prior to event required to access, #AD

Betfair

Betting Exchange
Live results
Live Streaming

18+

gamblingcommission

mga

£100

in free bets

Claim Offer
Betfair Review

Unibet

Unibet TV
Stats & Livescore
Horse racing

18+

gamblingcommission

egba

£40

money back

Claim Offer
Unibet Review
*18+ T&Cs Apply!
Topics on this page
Isn't Expertise Enough?
It's true that if you aren't well informed about your chosen sport, you won't make much of a profit. The best sports bettors are practically experts in their area and know all the teams, players and competitions inside out, which is how they are able to spot great value bets. But that isn't enough to be successful. Having a staking plan for betting on sports may not be the most exciting part of being a sports bettor, but it is as important as sports knowledge and an ability to weigh up probabilities. In fact, without a solid staking plan, even sports betting experts will find their potential profits turning into losses.
The First Principles of Staking Plans for Betting on Sports
The first principle of a staking plan is a defensive one. It is a fact that every sports punter, even the most successful, will have losing runs. Depending on the kind of prices that you like to bet at, these runs can be lengthy. During a losing run, being able to weather the storm and stay in the betting game is crucial, but without a staking plan, the psychological pressure of losing leads many punters into reckless or ill-advised bets. If you don't have a clear staking plan for betting that tells you how much to bet, regardless of how many losers you've had, the temptation to chase your losses may be too strong.
Weighing Up Your Bankroll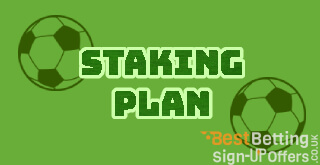 The staking plan that you choose will depend to an extent on the size of your bankroll: that is, the total amount of money that you have to bet with. It is, of course, important not to bet with money that you need for other expenses. If you are using money to bet rather than paying household bills, then you should stop immediately as not only is that a sign that you may have a gambling problem, but it is also likely that betting with money you can't afford to lose will negatively affect your betting performance.
Setting up a betting bankroll is like putting together an investment fund or a business plan. Since losing runs are inevitable, you need to be able to ride out the temporary setbacks and continue towards long term profit. Put simply, your bankroll needs to be big enough to withstand the longest likely losing run. You can quickly establish how long this run could be by using one of the many free calculators available online. By using the rough range of odds within which you expect to be betting, these calculators can tell you how many consecutive losers you can expect to back through random chance, which can help you to estimate how big your bankroll needs to be.
On the Level
So, what staking plan for betting on sports should you choose? There is a huge variety of plans out there, and it is well worth your while doing some research into which might suit you. But broadly speaking, they divide into two types: fixed stakes and variable stakes.
Most betting beginners and some successful sports punters opt to bet at Level Stakes, which is a popular form of fixed stake plan. This involves you staking the same percentage of your bankroll on each bet. One of the beauties of this staking plan is that as your bankroll increases, your stake increases, but during a losing run, your stake level decreases in proportion.
The other useful aspect of level staking is simplicity. Once you have calculated how many losers you may end up backing through random chance (outlined in the previous paragraph), you can then set your level stake percentage to take that into account. For example, if your longest likely losing run is fifteen, you can set the percentage of your bankroll that you bet with each time at 1/20th or even 1/30th of your bankroll, according to how big a buffer you think you will need.
Call on Kelly
The main problem with fixed staking systems is that they are not dynamic. They are based purely on the size of your bankroll and aren't flexible when it comes to maximising profit. For that reason, many punters move on to variable staking plans for sports betting, of which one of the most famous is the Kelly Criterion.
Created in the 1950s, it is based on the idea that your stake should be adjusted to match the extent of the value in a bet. For example, if you think that the sportsbook odds on a tennis player winning a game underestimate her chances by five per cent, then according to the Kelly staking plan, you should stake five per cent of your bankroll on the bet.
Using the pure Kelly staking plan can be a roller-coaster as in theory, it could lead you to wager large portions of your bankroll on an individual bet. For this reason, some sports punters who bet using the Kelly staking plan adjust the suggested stakes by halving or quartering them, lessening the risk.
The Fibonacci Method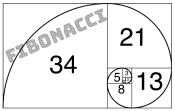 The Fibonacci staking plan has its roots in the Fibonacci Sequence: a mathematical formula devised in the Middle Ages. When you use the Fibonacci Method, the size of your stake is determined by the Fibonacci Sequence, which begins with 1 and 2 and then adds the last two numbers to provide the next stake size. With a win, you move one step along the Fibonacci Sequence of numbers, and you move two numbers down if you lose. The numbers, in this case, are usually converted into percentages, so, for example, 1 and 2 would equate to 1 per cent and 2 per cent of your bankroll.
As it is a variable staking method, the Fibonacci plan can lead to significant ups and downs, as the stake rises significantly every time you have win, but if you are prepared for the risk, the Fibonacci Method can be a dynamic and profitable way to manage your staking.
Staking Plans: Don't Bet without One!
A staking plan for betting on sports alone will not help you to make a profit, but the absence of a staking plan may well lead you to lose more than you should. If you are new to sports betting, a level stakes plan may be the best place to start, before you try out any of the more complicated progressive plans, but whichever option you choose, make sure that you never bet without a staking plan.
Other Betting Types