Spread Betting Strategy
Spread Betting Explained - UK Punters Guide 2023
Most sports wagers are placed on the traditional Match Outcome markets, in which punters have to pick the match or game winner, from a range of two or, where a draw is an option, three choices. This is the most familiar sports betting platform, but it is also the area on which most punters and sportsbooks focus on. That means it can often be hard to find value in the Match Outcome markets.
So shrewd sports punters are always on the lookout for other ways to bet. Mastering less popular forms of betting can give you a big edge over those who are not prepared to get to grips with more sophisticated betting products. And spread betting definitely comes into that category.
BOOKMAKER
DETAILS
REGULATION
LIVE
APP
CASH
OUT
BONUS
REVIEW

bet365

Live Streaming**
Customer Support 24/7
Increased odds

18+

gamblingcommission

ibas

£30

in free bets

Claim Offer
bet365 Review
*New Customers only. Registration required. Bet £10* & Get £30* in Free Bets. Sign up, deposit between £5* and £10* to your account and bet365 will give you three times that value in Free Bets when you place qualifying bets to the same value and they are settled. Free Bets are paid as Bet Credits. Min odds/bet and payment method exclusions apply. Returns exclude Bet Credits stake. T&Cs, time limits & exclusions apply. **Geo restrictions apply. Funded account or bet placed 24 hours prior to event required to access, #AD

Betfair

Betting Exchange
Live results
Live Streaming

18+

gamblingcommission

mga

£100

in free bets

Claim Offer
Betfair Review

Unibet

Unibet TV
Stats & Livescore
Horse racing

18+

gamblingcommission

egba

£40

money back

Claim Offer
Unibet Review
*18+ T&Cs Apply!
Topics on this page
Sports Spread Betting Defined
The principle of sports spread betting is that instead of betting on a binary win-or-lose option, you are using your judgement to bet on a range of possibilities, which in some cases can have no limit. The spread betting company will quote their price, known as a 'spread', and after weighing up the event, you decide whether you think the outcome will be higher or lower than the spread and place your spread bet accordingly.
What Is Spread Betting?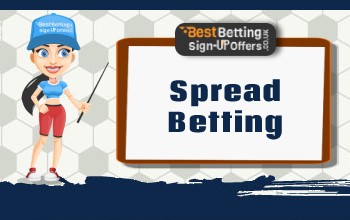 Spread betting differs from traditional or Fixed Odds betting in several ways, but the most important difference is in the fluidity of the spread markets compared to Fixed Odds betting.
In a traditional bet, you are wagering on a particular outcome at set odds. For example, you might bet on Manchester City to win the Premier League at 2/1. But a spread bet offers a more fluid and volatile approach.
You might, for example, choose to get involved in the Manchester City Total Season Points market. If the spread is set at 70, and you think they will finish the season with more points, you can buy against the spread at a stake per point of your choosing.
So, if you are right, you will win £5 for every point that Manchester City accumulate over 70. On the other hand, if you're wrong, you'll lose £5 for each point that they fall short of 70. As you can see, spread betting makes it possible to record big profits and big losses. Fortunately, for spread betting fans, there is a handy tool called stop-loss that can help you reduce your risk.
Stop Your Losses
Let's say you think England are going to bat well in a One Day International cricket game. The spread for the game is 250, but you are confident that they will be able to pass that figure, so you buy against the spread at £5 per run. But ten overs into their innings, they are 50-4 and looking uncertain of even reaching 150, let alone 250. Without the stop-loss tool, you would have no choice but to watch nervously and hope for the best while busily calculating your potential losses.
But had you applied a stop-loss at the time when you made your bet, you would have a degree of insurance. For example, in this market, you might decide on a stop-loss of 20 runs. That means that no matter how badly England bat, you would not lose more than £100 (20 * £5).
The downside of the stop loss is that your potential winnings are limited by the same extent, but for those who want to manage their risk, using the stop-loss facility is a good way of preventing big losses and represents a useful middle position between the volatility of the spread and the stability of Fixed Odds.
Spread Betting Practicalities
To show how spread betting works in practical terms, it's helpful to look at a couple of specific examples. Football is perhaps the most popular sport among spreads fans, so we will use the example of the market for Premier League points described above, but in more detail.
For the Manchester City example, the spread was quoted as a single figure, but in reality, spreads are usually offered as a range. For example, a spread betting company may offer Manchester City's total points as 72 to 73.5. If you want to sell the spread, you will be selling at 72 points, and if you want to buy against this spread, you will be buying at 73.5 points.
Let's say you buy at 73.5 for £10 a point. Here is the outcome for a range of eventualities:
City finish on 79 points £55 (79-73.5 x £10)
City finish on 73 points £0
City finish on 66 points -£60 (72-66 x £10)
As you can see, in this market, the only limit on the outcome and your profit or loss is the final total of points that Manchester City earn. Unlike with a Fixed Odds bet, when you know your potential profit or loss when you place a bet, there is far less certainty.
Your losses on a spread bet can far exceed your stake, which is why the online betting sites will only allow you to risk amounts that are covered by the funds in your account, a rule that will be familiar to Betting Exchange users.
Another popular football spread market is the Player Goal Minutes bet. This is a good example of the inventive ways that spreads companies find to enable punters to bet.
In the Player Goal Minutes market, the spread for a top striker might be around 38-41. The market is decided by adding up the total of the minutes in which they score.
For example, in a game featuring Barcelona, Leo Messi might be quoted at 25-68 minutes in the Player Goal Minutes market. If he scored goal in the 72nd minute and you had bought against the spread at £10 a point, this is how you would calculate your profit:
(Messi Score Goal Minute - Upper Figure of Spread) x Stake
(72 - 68) x £10 = £40
Spread Betting Variety
Spread betting companies will typically offer a range of markets on each sport, but as football is perhaps the most popular sport, we have included a sample of some of the football-related markets you are likely to encounter with an online spreads company.
Spreads Supremacy
Supremacy betting is one of the most popular types of football spread. In the supremacy markets, you are betting on the dominance of one team over another. In the case of football, the spread you are weighing up will be a margin of victory. For example, Arsenal might be quoted at 1-2 goals in a supremacy market for a game against Chelsea.
If you think Arsenal are going to win well, you can buy against the spread. In this case, if you bought Arsenal Supremacy at £10 a goal and they won 5-1, you would earn a profit of £20, as the winning margin was 2 goals higher than the spread.
First Goal Spreads
Predicting the time of the first goal in a football match isn't a particularly popular market when it comes to Fixed Odds wagers but is a good example of a market that becomes more interesting when approached from a spread betting perspective.
In a typical First Goal spreads market, the spread will be set at around 18-21 minutes. If you think the first half of a game may be a cautious affair, you could buy against the spread to make a profit. For example, if you bought 18-21 minutes at £10 and the opening goal of the game was scored on 45 minutes, you would win £240.
How Many Corners?
Corner betting has become increasingly popular among sports punters in recent years, and spreads companies provide an interesting spin on corner wagers.
A typical Corners market will see a quote for the total number of corners in a game, which could be around 14.5-15. Punters who are anticipating an attacking game may be tempted to buy against the spread, although the number of corners in a given game is only loosely associated with the balance of play between the two teams.
Shirt Number Spreads
Spread betting has facilitated a number of novelty markets that can provide a little fun as well as the opportunity to profit, and one of these is Shirt Number Spreads. These markets are calculated by adding together the shirt numbers of all of the goal scorers during a game.
Let's say that a game between two attacking teams has been quoted at 55-59 in the Shirt Number Spreads market. You're convinced that a striker who wears number 88 on his shirt is due a goal, so you buy in this market at £10 a point. If the striker scores a hat-trick, you will win £2050. On the other hand, if the game finishes goalless, you will suffer a loss of £550. As you can see, this is a particularly volatile market!
Spread Betting Strategy
As with any other form of betting, if you hope to make money from the spreads, you will need to develop an effective betting strategy that fits your betting style and bankroll, but there are some useful tips to bear in mind when attempting to profit from these markets.
The most important thing to remember is that spread betting is the same as any other type of wagering in one crucial respect. It rewards knowledge. It is tempting to get carried away when you are new to the spreads markets, but the route to profiting on the spreads depends entirely on your knowledge and expertise. Stick to the sports you know, particularly when you are starting out.
A common tactic for spreads punters is to look out for Handicap Spreads markets on football games. The odds available for favourites in Fixed Odds football markets are often extremely short, but with Handicap Spreads, it is possible to profit from those games where you think the outsider of the two teams will play better than the market thinks but may not win the game.
The other important thing to bear in mind with spread betting is that you should always be aware of your potential losses. The volatile nature of the spreads markets means that it is possible for your losses as well as your profits to escalate quickly. Make sure that you understand the full extent of the potential downside in any spread bet before you place it and make full use of the stop-loss tool.
A Different Way to Wager on Sports
Spread betting is not a style of wagering that will appeal to everyone. It entails more risk than you find with Fixed Odds markets, and for those used to betting on the straightforward Match Winner markets, it is an approach that takes some adjusting to. But if you are prepared to do your homework, take the time to understand how spreads work, and manage your bankroll to avoid being wiped out while you are still learning the art of spread betting, you can find that this type of sports wagering provides an opportunity to maximise your advantage and to cash in on your sporting expertise.
Other Betting Types