Asian Handicap Strategy
Handicap Betting Online - The Search for an Angle
Betting on football, just like betting on horse racing or investing in the stock market is all about finding an edge, an advantage. That edge can come from superior knowledge, from more sophisticated analysis, or better strategy, but unless you have an advantage over most of your fellow punters, and the bookmakers you bet with, finding profit will be hard.
So how can you find such an advantage? There is no easy answer, but it is probably fair to say that finding a football betting edge in the traditional Match Winner markets is tough. This is, after all, the area in which most football punters concentrate their betting activity, and so it is also the place where bookmakers commit most of their resources. With millions of people betting on the same markets, mistakes are harder to find, and it is those errors that the shrewd football punter relies upon to make their profits.
So, the search for an angle takes many punters away from the Match Winner markets, towards some of the betting industry's more obscure markets, where profits, for those who know what they're looking for, are easier to find. One of the most obscure, but potentially rewarding, is the Asian Handicap market.
BOOKMAKER
DETAILS
REGULATION
LIVE
APP
CASH
OUT
BONUS
REVIEW

bet365

Live Streaming**
Customer Support 24/7
Increased odds

18+

gamblingcommission

ibas

£30

in free bets

Claim Offer
bet365 Review
*New Customers only. Registration required. Bet £10* & Get £30* in Free Bets. Sign up, deposit between £5* and £10* to your account and bet365 will give you three times that value in Free Bets when you place qualifying bets to the same value and they are settled. Free Bets are paid as Bet Credits. Min odds/bet and payment method exclusions apply. Returns exclude Bet Credits stake. T&Cs, time limits & exclusions apply. **Geo restrictions apply. Funded account or bet placed 24 hours prior to event required to access, #AD

Betfair

Betting Exchange
Live results
Live Streaming

18+

gamblingcommission

mga

£100

in free bets

Claim Offer
Betfair Review

Unibet

Unibet TV
Stats & Livescore
Horse racing

18+

gamblingcommission

egba

£40

money back

Claim Offer
Unibet Review
*18+ T&Cs Apply!
Topics on this page
The History of the Asian Handicap
Asian Handicap betting is simply the Western name for a form of betting known as Hang Cheng in Asia. It is believed to have originated in Indonesia, but for many years was the main way that people in Asia bet on football matches, while remaining unknown outside Asia.
That began to change ahead of the 1998 Football World Cup in France when bookmakers operating in the new but rapidly growing online betting industry sought innovative ways to attract new customers. Asian Handicap betting proved to be extremely popular, and throughout the early years of the 21st century, football punters around the world became familiar with the practicalities of the Asian Handicap.
What Does Handicap Mean in Betting?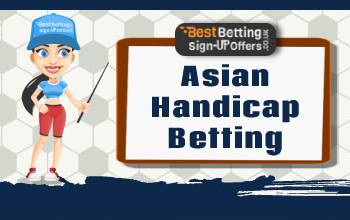 The principle of this type of bet is well-known in some sports. Essentially, it involves penalising one team or competitor to produce a theoretically even contest. In golf, the underdog player would have a certain number of shots as a head start. Horses that take part in handicap races carrying different levels of weight, according to their ability.
In football, it is goals that determine victory or defeat, so goals are used to handicap the two teams in a match. A bookmaker offering a handicap bet on a football game will apply a theoretical disadvantage to the stronger team by deducting a certain number of goals. For example, if Team A is stronger than Team B, the bookmaker might decide that a one-goal handicap is appropriate, or if the gap is much wider, it might impose a two-goal difference.
Odds are then offered on each team to win the game. In the case of the handicap market, the winning score is determined by adding the effect of the handicap to the real score. There will be more specific examples later on in this article to illustrate how it works.
Asian versus European Handicap Betting
The principle of the handicap is well known across many sports, and there are also other types of this particular bet. In case you are wondering "What is the alternative to Asian Handicap Betting?" the answer is European Handicap Betting. In many ways, the European version is similar to the Asian version, but there is one crucial difference. In a European Handicap market, the draw is still a factor, but in Asian Handicaps, the draw is effectively taken out of the equation.
Say Goodbye to Draws
So how do Asian Handicaps remove the draw? In the case of simple Asian Handicap markets, where the handicap is quoted in whole goals, it is possible for the outcome to be a draw.
Handicap draw betting explained: For example, if Liverpool are given a handicap of -1 in a game against Newcastle, and the game finishes 1-0 to Liverpool, then the result is a handicap draw. In this case, punters who bet on the Asian Handicap for this match would have their stakes refunded.
In the more complicated forms of Asian Handicap betting, where the advantage/disadvantage is offered in half-goals or quarter-goals, no refunds are necessary. It is impossible for the half-ball or quarter-ball handicap to end up as a draw because no team is able to score half a goal!
The Benefits of Asian Handicap Betting
The absence of the draw, mentioned above, is one of the major advantages of Asian Handicaps. There are two reasons why effectively removing the draw is good news for punters. The first is that it makes analysing a game much easier. Typically, punters think in terms of which team is better than the other and by how much, with the draw often considered as an afterthought. Asian Handicaps remove that additional layer of complexity.
The other advantage of removing the draw is that it makes it harder for bookmakers to offer unfair odds. Bookmakers earn their profit by adding a small margin into each price, but with an Asian Handicap, there are only two prices offered, compared to the three prices offered with a traditional Match Winner market. This is one of the reasons why many football punters prefer to take their chances in the Asian Handicap betting markets.
In addition to making it harder for bookmakers to offer uncompetitive odds, Asian Handicaps make it viable to bet on games that are often overlooked by football punters. It is often the case in football betting that one team will be such a strong favourite that it is offered at extremely unattractive odds. But with the handicap theoretically covering the gap between the two teams, it becomes viable, particularly for those with smaller stakes, to consider betting on the favourite - assuming, of course, that you think the odds are wrong.
The Variety of Asian Handicap Bets
Football remains the dominant sport when it comes to Asian Handicap betting, and most sports bookmakers will offer a full range of markets, so it is worth shopping around until you find one that gives you the chance to bet on the match of your choice. Although bookmakers have been ingenious in coming up with new options, all Asian Handicap markets essentially fall into one of three separate categories.
Level Asian Handicaps
A level handicap is the easiest to follow. In this case, the bookmaker has decided that both teams are so well-matched that no handicap is needed. Both teams, therefore, start with a 0-goal handicap and the market is settled on the basis of the final score. If you have bet on a Level Handicap game and it ends in a draw, then your bet will be declared void and your stake will be refunded.
Whole Ball & Half Ball Handicaps
In terms of complexity Whole Ball & Half Ball Handicaps, are the next stage of Asian Handicap betting. The bookmaker will give the handicap in terms of goals, which can be anything from 0.25 to 4 or even higher. If the handicap is a round number rather than a fraction, it is possible, as we saw above, for the game to end in a handicap draw, in which case, your stake will be refunded. But for handicaps like 0.5, 1.5 and so on, there are only two possible outcomes.
Let's say you plan to bet in a game between Manchester United and Fulham. United are considered the stronger team, so they are given a 1.5 goal handicap. The market, with the relevant prices, might look something like this:
| | | |
| --- | --- | --- |
| Manchester United | -1.5 | Evens |
| Fulham | +1.5 | 10/11 |
In this case, if you bet on Manchester United and they win the game by two goals, they will have overcome their handicap, and your bet will be a winner. But if Fulham win, the game ends in a draw or Manchester United win by only one goal, then you will lose.
Split Handicaps
Split Handicaps (Quarter Ball) are the most complicated form of Asian Handicap markets and the most likely to cause difficulties for those who are new to the concept, but the principles of this type of betting are easy to grasp once you've gone through it a few times.
With a Split Handicap, you are essentially betting on two different Asian Handicaps. For example, let's say you had a bet on a team which are quoted with a 0 & -0.5 handicap. In this case, you are splitting your stake between a 0 and a -0.5 handicap, and both halves of the bet have to be calculated separately. Here is an example to illustrate how it works:
| | | |
| --- | --- | --- |
| Manchester United | 0 & -0.5 | Evens |
| Chelsea | 0 & +0.5 | 10/11 |
In this case, let's say you bet £10 on Chelsea. The game ends as a 1-1 draw. Half of your stake went on a handicap bet which gave neither side an advantage. As the result was a draw, and there are no draws in Asian Handicaps, this £5 would be refunded. But the other half of your stake was on a winning bet, as with their 0.5 goal advantage, Chelsea achieved a handicap win. You would therefore receive a profit of (£5 x 10/11 = £4.55).
Live Asian Handicap Betting
Live Betting is an increasingly popular option for football punters, and that's why many bookmakers have started to offer live betting for Asian Handicap bets.
As with any type of live betting, these markets require fast-thinking and a clear strategy, but for those who have done their homework, they can be a profitable option. The key thing to remember with live Asian Handicap markets is that you are betting on what will happen for the remainder of the game. Goals that have already been scored are not considered.
Let's say that Manchester City are beating Arsenal 1-0 with twenty minutes left in a Premier League game, but you think the Londoners can fight back. You back them in the Asian Handicap market at -0.5, and they equalise in the last minute. The final score is 1-1, but because you backed them in a Live Asian Handicap market, your bet will be settled on the score in the time between making your bet and the final whistle. In this case, the score during that period was 1-0 to Arsenal, and so your bet will be calculated as a winner.
Asian Handicaps through Betting Exchanges
It is also worth noting that it is possible to bet on Asian Handicap markets through betting exchanges. In addition to offering you the opportunity to bet live on these markets, betting exchanges also give you the chance to lay as well as back a particular handicap. This approach will not be for everyone, but for those who are confident in their ability to assess the prices in an Asian Handicap market, betting exchanges offer an interesting alternative.
To Sum It Up
As the traditional football betting markets become ever more competitive, finding new ways to put your football knowledge to profit is increasingly important. Like other types of betting strategies, Asian Handicap may take a while to adjust to, but there is a reason why they have been so enduringly popular in some parts of the world. They offer the football punter a sophisticated way to approach the beautiful game, and for those who can grasp their complexities, they can be a handy way to gain an edge on bookmakers and over other punters.
Other Betting Types