Betting Odds Explained
Getting Comfortable with Betting Odds
If you want to make a success of sports betting, you will need to gain a full understanding of betting odds. Even experienced sports punters can benefit from brushing up on their betting odds knowledge from time to time. For instance, do you know your fractional from your decimal odds? What percentage chance does 4/1 represent? If you back Barcelona at 8/13, what will be your return and how can you calculate your profit?
Knowing how to read these betting numbers is a key aspect of successful sports punting, and an essential prerequisite if you hope to be profitable in the long term.
Topics on this page
Back to School: Probabilities
If talk of probabilities reminds you of school maths lessons, don't worry! You don't need to be a maths professor to be a successful punter! But you do need to understand something fundamental about betting odds: that they also represent probabilities.
BOOKMAKER
DETAILS
REGULATION
LIVE
APP
CASH
OUT
BONUS
REVIEW

bet365

Live Streaming**
Customer Support 24/7
Increased odds

18+

gamblingcommission

ibas

£30

in free bets

Claim Offer
bet365 Review
*New Customers only. Registration required. Bet £10* & Get £30* in Free Bets. Sign up, deposit between £5* and £10* to your account and bet365 will give you three times that value in Free Bets when you place qualifying bets to the same value and they are settled. Free Bets are paid as Bet Credits. Min odds/bet and payment method exclusions apply. Returns exclude Bet Credits stake. T&Cs, time limits & exclusions apply. **Geo restrictions apply. Funded account or bet placed 24 hours prior to event required to access, #AD

Betfair

Betting Exchange
Live results
Live Streaming

18+

gamblingcommission

mga

£100

in free bets

Claim Offer
Betfair Review

Unibet

Unibet TV
Stats & Livescore
Horse racing

18+

gamblingcommission

egba

£40

money back

Claim Offer
Unibet Review
*18+ T&Cs Apply!
For example, if you were considering a bet on Manchester City to win a game at 2/5 offered by Bet365, these odds can not only be used to calculate your return, they will also tell you what the betting company think is the probability of Manchester City winning.
In this case, the team are quoted at 2/5. Those odds expressed as a percentage are 71.4, which means Manchester City are being quoted as a 71.4 percent chance to win the game. So, if your analysis tells you that Manchester City have a better than 71.4 percent chance of winning, you might be considering making a bet. This ability to see betting odds as percentages is an important stage in your betting evolution.
Are You Decimal or Fractional?
In the example set out in the last section, the betting odds were expressed in the traditional fractional odds method. This type of odds comes from the United Kingdom, and you will still find it employed in many sports betting markets, though across Europe, decimal odds are more popular than fractional. The advantage of decimal odds is that they enable more precision in setting a price and are also more straightforward to understand.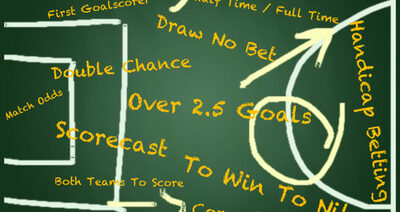 While both types of odds can be used to express the same price, the main difference is that decimal odds focus on the total return you could receive if your bet wins, while with fractional odds, it is easier to calculate your profit. For example, if a team is available to bet at 3/1, you can multiply your stake by the first number to calculate your profit. The decimal equivalent would be 4.0 and, in this case, multiplying your stake by the odds shows your total return.
Decimal to Fractional Conversion
Many punters like to use fractional odds, perhaps because they find them more familiar or they want to quickly be able to calculate their profit. The process for converting decimal to fractional odds is simple:
Deduct 1 from the decimal odds
Change the number to a fraction
Reduce the fraction to its simplest form (if required)
For example, to convert decimal odds of 4.0 to fractional odds, this is the calculation:
One of the difficulties associated with this type of conversion is that fractional odds are not as precise as decimals, so you may find that converting throws up some unusual looking fractions such as 76/7 or 3/2. This is why some punters like 888sport prefer decimal odds, particularly younger punters, who haven't grown up with the traditional fractional versions.
What makes William Hill one of the best bookmakers in the market?
Live Betting
Mobile & Tablet App
Early Payout / Cash Out
Live Streaming
How does Unibet work compared to other bookmakers? Let's see
Live Betting
Mobile & Tablet App
Early Payout / Cash Out
Live Streaming
Changing Fractional to Decimal
Being able to switch from fractional odds into decimal odds is another useful ability that will help you to develop your overall betting awareness. Of course, many sportsbooks (William-hill, Mr Green, Unibet) will provide you with the facility to switch between fractional and decimal odds as the default setting for your account, but it is still good practice to familiarise yourself with the process.
Let's take an example of a potential bet on Bayern Munich at 11/10. To find out the decimal odds for this bet is straightforward and follows these steps:
Start with the two elements of the fractional odds: 11 and 10
Add these together, then divide the second number by the total: 10/(11+10) = 0.476
Change this to a percentage by multiplying it by 100: = 47.6 %
Then divide 100 by the new percentage: = 2.1
This calculation tells you that fractional odds of 11/10, when converted to decimal odds, are 2.1. One other thing to note is that if you are in a hurry and don't have time to do the calculation, there are several free online calculators that will do the conversion for you.
Calculating your winnings
As well as representing an expression of probability, betting odds will also enable you to work out how much money you will win if your bet is successful. The precise method you use depends on whether you are looking at decimal or fractional odds.
For example, if you bet on Leicester City to win an FA Cup game at fractional odds of 3/1. If your stake on Arsenal was £20, it is easy to work out your winnings:
Stake = £20
Odds = 3/1
Profit = Odds x Stake: £20 x 3 = £60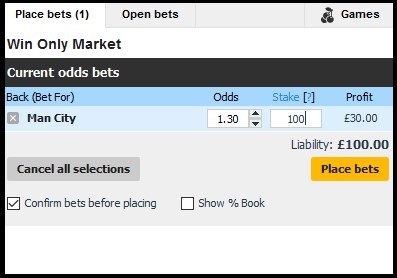 Remember, because this calculation was made using fractional odds, the figure of £60 represents the profit from your bet and not the original £20 stake.
If you made the same wager at decimal odds, you would be quoted a figure of 4.0 rather than 3/1. Working out your profit from decimal odds requires an extra stage:
Stake = £20
Odds = 4.0
Return = Odds x Stake: £20 x 4 = £80
Profit = Return – Stake: £80 - £20 = £60
Once you've gone through this process a few times, it will become second nature, and you will find that the ability to rapidly calculate your return and your profit by using betting odds will help you to speed up your analysis and your betting as a whole.
Using odds to improve your betting
If you ask any professional punter for their most important betting tip, many of them will tell you the same thing. If you want success as a bettor, recording details of your bets is absolutely essential. In fact, a failure to keep even the basic record of bets made, odds taken, and stakes wagered is one of the most common mistakes made by novices. The process of writing down this information every day can feel like a chore, but it more than pays for itself.
Not every punter will record the same level of detail. Some will go to the lengths of noting the time, date, market over round, weather, and so on, depending on their chosen sport. But whatever level of detail you decide to add, you should always keep a note of the betting odds.
The reason for this is that a betting record is not simply about being able to check at a glance whether you are in profit or making a loss for the year. By keeping notes of the betting odds, you got for all of your bets, you will have an incredibly useful resource that will enable you to spot patterns in your betting. Perhaps you will find that you are actually doing well with bets that are odds-on but more poorly with outsiders, suggesting that you find it harder to accurately weigh up the chances of bigger priced options.
Betting odds can become an even more useful resource when they are converted into probabilities. As all professional gamblers will tell you, in order to make a long-term profit, you will need to consistently find 'value'. This means that you must consistently make bets at odds that are bigger than they should be. With an accurate and up to date record of the odds you have taken on each bet, you can check your value-finding skill.
For example, fractional odds of 3/1 convert to a probability of 25 percent. All things being equal, you would expect that bets made at 3/1 would win around a quarter of the time. But if you discover that your 3/1 bets are winning more often, that could indicate that you have found a way to uncover value. On the other hand, if you're 3/1 bets are winning less than a quarter of the time, it might be worth reviewing your betting strategy.
Conclusion
To be a successful sports bettor takes time, hard work and practice, and there are many elements to that success, but it is clear that unless you have a deep understanding of how betting odds work and what they represent, you won't be able to profit. Betting odds are not just a useful tool to help you calculate your winnings, they are a powerful weapon in the ongoing battle to beat the bookmakers.
Other Betting Types