Hedge Betting Strategy
Hedge Betting Guide 2023 - Understanding the Ins and Outs of How Does It Work
There are many different aspects to being a successful sports bettor. Obviously, you have to develop in-depth expertise regarding the sport you intend to bet on, whether that is gained through watching and analysing or poring over spreadsheets.
You also have to develop good bankroll management skills to ensure that you can ride out the lean times and fully capitalise when things are going well. And one of the most important aspects of sports betting is how to manage risk. One tool for successfully minimising the risk in betting is the hedge betting strategy.
BOOKMAKER
DETAILS
REGULATION
LIVE
APP
CASH
OUT
BONUS
REVIEW

bet365

Live Streaming**
Customer Support 24/7
Increased odds

18+

gamblingcommission

ibas

£30

in free bets

Claim Offer
bet365 Review
*New Customers only. Registration required. Bet £10* & Get £30* in Free Bets. Sign up, deposit between £5* and £10* to your account and bet365 will give you three times that value in Free Bets when you place qualifying bets to the same value and they are settled. Free Bets are paid as Bet Credits. Min odds/bet and payment method exclusions apply. Returns exclude Bet Credits stake. T&Cs, time limits & exclusions apply. **Geo restrictions apply. Funded account or bet placed 24 hours prior to event required to access, #AD

Betfair

Betting Exchange
Live results
Live Streaming

18+

gamblingcommission

mga

£100

in free bets

Claim Offer
Betfair Review

Unibet

Unibet TV
Stats & Livescore
Horse racing

18+

gamblingcommission

egba

£40

money back

Claim Offer
Unibet Review
*18+ T&Cs Apply!
Topics on this page
Introduction to Hedging Bets
Hedge betting is one of those betting phrases that many of us have heard but may not be entirely sure what it refers to. And others may think they understand it without fully grasping the concepts that underly the art of hedge betting, which can lead to costly mistakes.
That's why we've put together this helpful guide that should give you all of the information you need about hedge betting so that you can decide how this technique can help you reduce the risk and possibly increase your profits.
The "Hedge Your Bets" Meaning in Sports Betting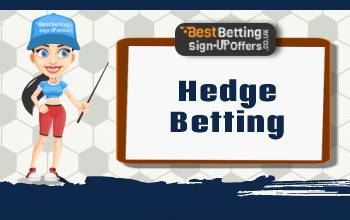 Hedge betting is often confused with arbitrage betting, but while there is some overlap between the two concepts, they are based on significantly different betting priorities. Arbitrage betting is all about looking out for discrepancies between prices on offer at different bookmakers and betting on both in such a way that you can make a profit regardless of the outcome of the event.
But hedge betting can be regarded as a form of betting insurance. The concept of the hedge bet is to protect the losses you might incur from your existing bet if it loses. This is done by making bets on alternative outcomes to ensure that any losses are mitigated. For example, you might bet on one basketball team to beat another but then have a smaller bet on their opponents.
On the face of it, this may seem counter-intuitive. If you've decided on a good bet, why would you then bet on the alternative? But there can be several reasons for a hedge bet, and, theoretically in certain circumstances, a hedge bet can even lead to a profit.
How to Hedge Your Bets to Manage Risk
Have you ever heard the phrase "I will hedge my bets" by fellow punters and wondered what it actually means? The main use of hedge betting is to reduce your risk. This means that you will usually be prepared to take a small loss so that you won't incur a much bigger one. While this may not be your starting goal when you plan a bet, at some point in your betting career, you will come across a situation when cutting your losses will be important.
This happens most often when you find yourself holding a bet that you no longer have any belief in, either because you've come across new information or you've reassessed the information you had originally and reached a different conclusion.
Perhaps you have discovered that a star striker for the team you've had a bet on has twisted his ankle, or you've realised that your pre-match data analysis contained some errors. In this scenario, many sports punters might just shrug their shoulders and let the bet ride. But this could be a mistake.
In fact, it is a well-known concept in financial investment circles that knowing when to cut your losses is as important as maximising your profits. In sports terms, it is the equivalent of playing good defence.
Hedge betting is unpopular with some sports punters compared to other types of betting because it doesn't increase their profits but merely cuts their losses in the case of a failed selection. But professional punters know that cutting your losses, as well as being selective with your bets, is an unglamorous but essential skill.
The Strategy Explained through an Example
The principle of hedge betting is simple. Let's take a common example. Imagine you have a $10 bet on Liverpool to beat Manchester United at odds of 3/1. You place the bet on Wednesday ahead of the game on Saturday, but on Friday, you learn that a key Liverpool player is suffering from an illness. You no longer feel confident about your original bet, so you hedge with two more bets.
| | | |
| --- | --- | --- |
| Original Bet | Liverpool to win at 3/1 | $10 |
| Hedge Bet 1 | Draw at 7/2 | $5 |
| Hedge Bet 2 | Man Utd to win at 4/5 | $10 |
Before you had made your hedge bets, this is how your bet would be shaping up for each result:
| | |
| --- | --- |
| Liverpool win | $30 profit |
| Draw | $10 loss |
| Man Utd win | $10 loss |
But once you have made your hedge bets, your risk has changed:
| | |
| --- | --- |
| Liverpool win | $15 profit |
| Draw | $2.5 loss |
| Man Utd win | $7 loss |
As you can see, after hedging your bets, your potential profit has been lowered, but your potential losses have also been lowered, which reduces your exposure should your information about the Liverpool player be correct. If you are wondering how to calculate a hedge bet precisely, you can take your bet-hedging to the next level and use one of the many free bet calculators available online, which can help you to estimate the amounts.
The Possibilities of Hedging for Profit
As mentioned above, using a betting calculator can also enable you in certain circumstances to lock in a profit from your hedge betting. The principle of the hedge bet remains the same: to reduce your exposure and to control your risk, but in some cases, hedging can work like arbitrage betting.
A good example of this type of hedging is in a tournament betting market, where you have backed one team to win, and they have reached the final. But instead of letting the bet ride, you decide that your hard work deserves a guaranteed profit, so you make a hedge bet on the opposing team.
Another common example is in the case of an accumulator bet. Let's say you have a six-bet accumulator, and five of the bets have won. Instead of running the risk of losing the whole bet if your sixth selection loses, you can lock in a profit by making a shrewdly judged hedge bet.
Let's say you bet on Chelsea to win the FA Cup at the start of the season. Their odds at that point are 6.0, and you back them for $10. By April, they have reached the final where they are up against Liverpool, who are quoted as a 2.5 chance to win the final. At this point, you could let the bet ride.
| | |
| --- | --- |
| Chelsea win the FA Cup | $50 profit |
| Liverpool win the FA Cup | $10 loss |
But another way to look at it is that you correctly identified that Chelsea were too big a price at the start of the season, so why not capitalise on your good analysis by securing a profit whatever the outcome. In this case, you could use a hedging bet calculator to work out the optimum amount of money to bet on Liverpool.
Simply enter the odds and stake of the original bet and the current odds on the alternative bet. In this case, the bet calculator could show you that in order to guarantee the same profit, whatever the outcome, you should back Liverpool at $24. Now your potential returns are:
| | |
| --- | --- |
| Chelsea win the FA Cup | $26 profit |
| Liverpool win the FA Cup | $26 profit |
By accepting a lower profit in the case of a Chelsea win, you have enabled yourself to use bet-hedging to secure a guaranteed profit and a much more enjoyable watching experience!
Conclusion
Although bet-hedging has some aspects in common with arbitrage betting, the principle is very different. When you hedge your bet, you are attempting to reduce risk or cut losses. Some sports punters are reluctant to do this as they regard it as accepting defeat that your original bet might lose.
But wise sports punters know that every bet has a chance of losing and that by using bet-hedging wisely, you can help to reduce your losses and thereby increase your long-term chances of success.
Other Betting Types