Pari-Mutuel Betting Strategy
Pari-Mutuel System or How to Make the Most of Pool Betting
Pari-Mutuel betting, which is perhaps known as 'pool' betting, is a distinctive way of wagering on sports events that does without the traditional bookmaker entirely.Instead of putting your bet on with a sportsbook, every bet you make goes into a 'pool' along with every other punter's wager, and that pool is then shared out among punters who find the winner, with the organisation that runs the pool taking a small percentage of all bets. Some pari-mutuels are run by local or national government organisations, but some are operated by private pari-mutuel or betting companies.
BOOKMAKER
DETAILS
REGULATION
LIVE
APP
CASH
OUT
BONUS
REVIEW

bet365

Live Streaming**
Customer Support 24/7
Increased odds

18+

gamblingcommission

ibas

£30

in free bets

Claim Offer
bet365 Review
*New Customers only. Registration required. Bet £10* & Get £30* in Free Bets. Sign up, deposit between £5* and £10* to your account and bet365 will give you three times that value in Free Bets when you place qualifying bets to the same value and they are settled. Free Bets are paid as Bet Credits. Min odds/bet and payment method exclusions apply. Returns exclude Bet Credits stake. T&Cs, time limits & exclusions apply. **Geo restrictions apply. Funded account or bet placed 24 hours prior to event required to access, #AD

Betfair

Betting Exchange
Live results
Live Streaming

18+

gamblingcommission

mga

£100

in free bets

Claim Offer
Betfair Review

Unibet

Unibet TV
Stats & Livescore
Horse racing

18+

gamblingcommission

egba

£40

money back

Claim Offer
Unibet Review
*18+ T&Cs Apply!
Topics on this page
Legality and Popularity of Pari-Mutuel Betting
One of the advantages of pool betting for punters is that it is more likely to be legal than other forms. Gambling is restricted in many parts of the world, but even countries that frown upon gambling often allow a form of pari-mutuel to exist, making it extremely popular. It is a form of betting that is most often associated with horse racing and greyhound racing, but it can be employed effectively to allow betting on any event in which there are multiple participants.
The History of the Pari-Mutuel System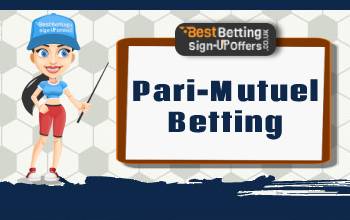 As you might imagine, the phrase 'pari-mutuel' came from France. It means 'mutual betting' and was coined by the man credited with inventing this type of betting, Joseph Oller, in 1867. A Spanish businessman, who lived in Paris, Oller was frustrated at traditional betting strategies and so set out to create a rival form of betting that would be more punter-friendly and replace the bookmaking model.
He implemented the pari-mutuel system at several racecourses in France, and although there were setbacks along the way - including a jail sentence in 1874 - Oller achieved his aim. Pari-mutuel betting was made legal in 1891, and traditional fixed odds betting was outlawed.
After its successful implementation in France, the pari-mutuel betting system caught on all over the world, most notably in the United States, Australia, and New Zealand. It also caught on in the United Kingdom, where for a period, pool betting, also known as 'the Tote', was the only form of legal betting that UK punters could enjoy at the bookmakers. The Tote still exists, though it is now called Totesport.
The Tote took its name from one of the most significant developments in the history of pari-mutuel betting. In 1913 an inventor called George Julius introduced a new machine at Auckland racecourse, New Zealand. The Automatic Totalisator provided a mechanical solution to the problem of calculating the returns on pari-mutuel pools, doing away with the previous method of manual calculation, which had been extremely time-consuming, and ensuring pari-mutuel betting became even more popular.
How Are Pari-Mutuel Odds Different from Fixed Odds?
The basics of pari-mutuel wagering are simple to grasp. As with any sports event, you make your selections based on your preferred method. But the difference is that unlike with fixed odds betting, you won't have set pari-mutuel odds to consider for each selection. Instead, you will be able to look at predicted odds based on how the betting pool has developed at the time when you make your bet, but these odds will fluctuate according to the flow and volume of bets.
As described above, with a pari-mutuel market, all the money wagered goes into a pool, and when the event is over, the total money in the pool is added together. The company or organisation that runs the pool will then take its cut, and the remaining money will be divided among punters who chose the winner, with the exact level of pay-out based on how much a punter wagered.
An Example of a Pari-Mutuel Market
To illustrate how a pari-mutuel system works, we've put together a simplistic example of a typical horse racing betting pool. In a real pari-mutuel market, the numbers involved would be more complicated, but the principle remains the same.
In this example, we've chosen a five-horse race, and alongside the horse is the amount of money wagered on the race at the time when we study the market.
| | |
| --- | --- |
| Horse 1 | $500 |
| Horse 3 | $700 |
| Horse 4 | $650 |
| Horse 5 | $450 |
| Horse 6 | $100 |
The total amount wagered so far on this race is $2,400. In this case, the commission deducted by the pari-mutuel operator is 10 %, which leaves $2,160 in the pool. This money is then divided by the amount of money wagered on each horse. The result is the pay-out per $1 wagered on each horse:
| | |
| --- | --- |
| Horse 1 | $4.32 |
| Horse 2 | $3.09 |
| Horse 3 | $3.32 |
| Horse 4 | $4.80 |
| Horse 5 | $21.60 |
So, in this case, if you bet $10 on Horse 1, you will expect a potential profit of $43.20 if it wins. That profit is 'potential' because the final returns cannot be calculated until the market has closed, and the totals are combined. In such market, you will be presented with predicted pari-mutuel odds at the time you make your wager, but those odds are likely to change by the time bets are settled.
Advantages and Disadvantages of This Betting System
It is clear a pari mutuel market requires a different strategy to a fixed odds market. Not only do you have to analyse the event itself and all the participants, but you also must assess how the odds are likely to change by the time bets are settled. One approach is to wait until the last minute before making your bet, so you can be sure that the predicted price is as close as possible to the final price. The problem with this strategy is that you can often miss out on bigger prices.
That's why punters who regularly bet in pari-mutuel markets become adept at spotting which contenders are likely to attract the most money and at spotting things that are undervalued by the crowd. That process is ever-changing, and what works one year may not work the next, so pari mutuel betting presents a significant challenge, but it offers the opportunity to bet into a 'pure' market in which there are no bookmakers margins and no restrictions on winning accounts.
Pari-Mutuel Variations to Explore
One of the beauties of pari-mutuel betting is that it makes several variants possible on the traditional win-only bet. Here are some of the most popular:
Place and Show
A Place wager is a bet on a contender to finish first, second or third, though, in the United States, it is only related to finishing first or second.
The Show wager is also restricted to the US and is the equivalent of the European Place bet, on a selection to finish in the first three.
Each Way
This pari-mutuel bet is found outside the US and combines a Win bet and a Place bet.
Across the board
Another bet familiar to US punters, this is effectively three different bets in one: a Win, a Place, and a Show bet.
If your selection wins, you will win all three bets, if it finishes second, you will land the Place and Show bets, and if it trails in third, the Show bet will still be a winner.
Exacta and Trifecta
There are numerous 'exotic' wagers available in most pari-mutuel markets, but the Exacta and the Trifecta are the two best-known.
When you bet on an Exacta, you are backing your ability to pick two selections to finish first and second in the right order, while a Trifecta is an even tougher ask; picking the first three competitors to finish in the correct sequence. Both bets are tough to land, but they tend to offer enormous pari mutuel odds and are a popular option for many punters.
The Different Betting Experience
For fixed odds punters, pari-mutuel betting presents a very different challenge, and the fluid nature of the prices in a pari mutuel system can be bewildering at first. But the ability to bet into a market that is free of bookmaker margins and based purely on the weight of money behind each contender is a 'purer' form of betting that will appeal to many.
Becoming adept at pari-mutuel betting will also help you to sharpen your edge-finding skills as you try to stay one step ahead of the crowd, making it an excellent training ground for those who want to upgrade their sports betting performance.
Other Betting Types