Bitcoin Betting Sites
The Rise of Bitcoin – Top Betting Websites Payment Method
Unless you've been living in a cave for the last few years, you can't have failed to notice the rise of Bitcoin. There are other cryptocurrencies, of course, but Bitcoin is the most famous and has come to represent the cryptocurrency concept.
So, what is a cryptocurrency? Many people believe it is the future of money. Unlike traditional currencies, cryptocurrency is not held or regulated by a central bank. The technical details of how this type of currency works can get quite complicated, but essentially, all you need to know is that Bitcoin offers instant money transfer and a far higher degree of security than with traditional currencies.
And as more and more retail providers offer Bitcoin payment, the betting industry has also taken notice of the Bitcoin phenomenon. Modern sports punters want the freedom and flexibility to be able to use their preferred currency to bet, and sportsbooks are responding. An increasing number of online bookmakers accept Bitcoin payment, and that trend is likely to strengthen.
Topics on this page
How to Bet with the Most Popular Cryptocurrency
The first step in setting up your betting is to create a Bitcoin wallet. This is a virtual wallet that will effectively be your Bitcoin account, which you can use to buy and sell bitcoins, pay for goods and services and, in this case, deposit funds with your bookmaker. The process of setting up a BTC wallet is fairly straightforward, but there are a number of steps to take along the way.
Choose Your Wallet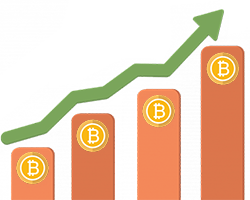 There are many types of Bitcoin wallets out there. Some require you to download software, while others can be accessed directly through your browser. Fortunately, Bitcoin is long enough established that there are plenty of useful guides out there that will help you to find the right Bitcoin wallet for your needs.
Open an Account
Once you have chosen your preferred wallet, you can click on the 'Sign Up' icon to start the account registration process. You will be required to set up username and password, and to complete a series of details including your name and email address. A verification email will be sent to your email, and once you click on it, your account will be activated.
Connect Your Phone
Most Bitcoin wallets will require you to provide your phone number details, in order to set up what is known as two-factor authentication: an extra layer of security that will keep your wallet safe. All you have to do is input your number, wait for a verification text, then follow the site instructions to verify your phone and link it to your wallet.
You will receive a text message with a 7-digit code. Use the form shown below to enter it and click "Verify Phone Number" to complete the procedure.
Personal Details
The next step of the process is to complete a few personal details and verify your identity. This will require you to upload relevant ID documents, such as a driving licence or a government-issued form of ID. Although this process can be a little frustrating, it is a necessary part of the sign-up process, and once you have submitted your ID, it should be approved quickly.
Linking a Payment Method
Once you have verified your account, you are ready to buy Bitcoin and bet! First, you will have to link a payment method to your Bitcoin wallet. The methods available will depend on your location and on the wallet that you use, though it is worth noting that most BTC wallets don't support credit card withdrawals, so many Bitcoin punters prefer to use bank transfer to fund their wallets.
Betting with Bitcoin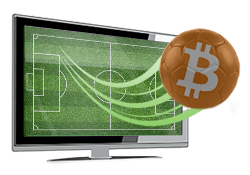 So now you're ready to bet! The first step is to find the best bookmaker. While not every online sportsbook offers BTC betting, you should find plenty that do provide it, so it is worth checking out each site before signing up. Make sure that the site you are planning to bet with offers markets on your chosen sports and check out how competitive their odds are before joining them.
Register Your Bitcoin Sports Betting Account
The good news for Bitcoin sports bettors is that the sign-up process you have to follow is the same as with any other payment method. But one advantage of using a Bitcoin wallet to fund your betting is that with a Bitcoin sportsbook, you are not required to submit as many personal details as with other payment methods, and often you only need to provide email, date of birth and password information. As cryptocurrencies are fairly new in the betting world, you will also find that most BTC sportsbooks will make it easy for you to sign up and will guide you through the process step-by-step.
Funding Your Bitcoin Betting Account
To put money into your BTC sportsbook account, you will first need to obtain the bookmaker's Bitcoin address. This should be easily displayed on the Bitcoin page of the sportsbook. Next, you have to open up your wallet and head to the Send/Request page. On this page, simply paste the sportsbook's Bitcoin address into the relevant box, complete the details of how much you want to send, and then click on the 'Send Funds' icon. And that's it!
Making a Bet with BTC
While some aspects of using Bitcoin may be unfamiliar, the basics of betting with BTC are no different to using any other form of funding. Bitcoin sportsbooks should offer you the ability to bet on all the usual markets, which are most often found via a drop-down menu, and the process of making a selection, choosing your stake, and putting on your bet is usually quick and easy.
Withdrawing Your Winnings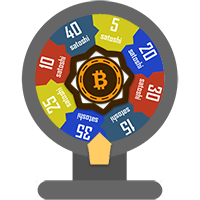 If you've been successful with your sports betting, you will soon want to withdraw your money, and with a Bitcoin bookmaker, this process is relatively straightforward. The first stage is to move your money from the sportsbook back to your Bitcoin wallet. To do this, you will need your Bitcoin address, which is usually displayed in a prominent place on your BTC wallet page. All you have to do is to copy this address and then head to the Withdrawals section of your bookmaker.
Clicking on 'Withdrawal' will open up a basic form that will enable you to complete the relevant details of how much you want to withdraw. You will then be able to paste the Bitcoin wallet address you copied earlier into the relevant field and click on the icon to complete the transaction. Once the process has been completed, you should find that your funds will quickly reach your Bitcoin wallet.
Accessing Your Winnings
Your winnings will be paid into your wallet as Bitcoins, and at that point, you have a choice as to how you want to proceed. You can leave the money as Bitcoins and use it to buy things online, but if you want to convert it to traditional currency, this is a straightforward transaction.
The first stage is to sell the BTC in your wallet for the currency of your choice. With most Bitcoin wallets, this is easy to do as there is often a Buy/Sell Bitcoin icon displayed prominently on your account page. Clicking on this icon will open up the conversion page, and you will see your withdrawal amount converted to your currency. One more click will initiate the withdrawal process, and the funds should be in your chosen bank account within a matter of hours.
The Final Verdict
Like any new form of betting, using Bitcoin for the first time can be a little strange. That's why it's a good idea to take your time to work through the process stage by stage initially so that you can feel confident in how the system works. The good news is that BTC wallet providers and BTC sportsbooks are keen to show new users how to operate their Bitcoin processes. You may even find that some sportsbooks offer exclusive bonuses for new customers who use cryptocurrency to fund their betting, as many online bookmakers are keen to persuade punters to use this payment method.
And while BTC betting is still a relatively new phenomenon, it is fast becoming the payment method of choice for the modern sports punter. In fact, right now, there are successful professional gamblers who prefer to carry out their daily betting using this popular cryptocurrency. You don't have to be a Bitcoin devotee to notice that this payment method offers a great deal in terms of speed, convenience and security, and as cryptocurrencies become more popular, the online betting landscape of the future is likely to be dominated by the likes of Bitcoin.
Other recommended payments