Lay Betting Strategy
Lay Betting or How to Play Bookmaker and Take Bets
The battle between the bookmakers and bettors is an age-old one, and most of the time, it is the bookmakers who have the edge. But have you ever stopped to wonder why this is? It isn't that bookmakers have access to better information than punters, although they often do. What enables them to make a profit is the fact that they don't have to find the winner of an event. They simply have to ensure that they take enough bets on all of the contenders, so they win whatever happens.
Traditionally, the back and lay betting system, as it is known in the industry, has not been open to sports punters. For decades, the only way that an ordinary sports bettor could effectively lay a selection is to back every other selection against it, which can be a complicated and frustrating business. But in recent years, that betting reality has changed. Thanks to the emergence of the betting exchange, any sports punter can now play bookmaker.
BOOKMAKER
DETAILS
REGULATION
LIVE
APP
CASH
OUT
BONUS
REVIEW

bet365

Live Streaming**
Customer Support 24/7
Increased odds

18+

gamblingcommission

ibas

£30

in free bets

Claim Offer
bet365 Review
*New Customers only. Registration required. Bet £10* & Get £30* in Free Bets. Sign up, deposit between £5* and £10* to your account and bet365 will give you three times that value in Free Bets when you place qualifying bets to the same value and they are settled. Free Bets are paid as Bet Credits. Min odds/bet and payment method exclusions apply. Returns exclude Bet Credits stake. T&Cs, time limits & exclusions apply. **Geo restrictions apply. Funded account or bet placed 24 hours prior to event required to access, #AD

Betfair

Betting Exchange
Live results
Live Streaming

18+

gamblingcommission

mga

£100

in free bets

Claim Offer
Betfair Review

Unibet

Unibet TV
Stats & Livescore
Horse racing

18+

gamblingcommission

egba

£40

money back

Claim Offer
Unibet Review
*18+ T&Cs Apply!
Topics on this page
What Is a Lay Bet and How Did It All Start
Even when it moved to the internet, the traditional model of bookmaking has not enabled lay betting. But in the early 21st century, a new type of betting model emerged with the creation of Betfair. This new entrant to the betting industry provided a different approach.
Instead of setting odds and taking bets, Betfair's business model was as a middle man, facilitating bets between punters who wanted to back and those who wanted to lay. Their profits came not from losing bets, but from taking a commission on winning bets. It proved to be an extremely popular concept for many reasons, but one of the principal attractions for sports punters was the ability to lay bets.
Lay Betting Explained Thoroughly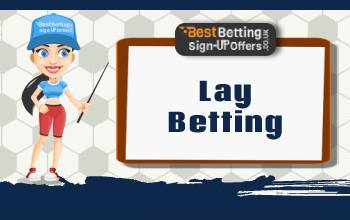 With a lay bet, you are taking on a bookmaker's role, setting a price at which you are prepared to accept bets. You can also set the amount of stake that you are prepared to accept. If the bet loses, you keep the stake. But if the bet is a winner, you have to pay out to the person who made a bet with you, just as bookmakers would. This option is only available when you use a betting exchange.
Typically, when you open the market on any event, the betting exchange will show you a price at which you can bet on a selection and a price, which will be slightly higher, at which you can lay that same selection. The market will also show how much money is available to back or lay a selection at a particular price. You can either choose to lay the selection at the lay price available or request a different price, in which case, you will have to wait to see if someone takes up your offer.
This process is made possible by complex software that is constantly calculating how much money is available to both backs and lay a selection and allocating requested bets where possible. To see how this works in practice, let's take a simple example.
At the start of the season, you have decided that Arsenal are a good bet to win the Premier League, and you are prepared to back them at odds of 5.0 or higher. But when you check the available prices, you find that Arsenal are available at much shorter odds of 3.0. So instead, you head to a betting exchange and find that in the Premier League winners' market, the following prices are available:
In this case, instead of backing Arsenal at a price you think is too short or making no bet, you can attempt to profit from your research by laying Arsenal at odds of 3.5, perhaps for a $10 stake. In this case, your potential profit would be calculated like this:
| | |
| --- | --- |
| Arsenal win the Premier League | Loss $25 |
| Arsenal don't win the Premier League | Win $10 |
That may not seem like a big profit, but remember, you will effectively have every other team in the Premier League working for you! And if your analysis is correct and odds of 3.5 are too short a price for Arsenal to win the Premier League, lay betting provides another way to profit.
Let's take another direction - what is a lay bet in horse racing? The concept is pretty much the same as in football lay betting. If you lay a horse, you win if any other horse in the competition wins. Respectively, you lose if the horse you bet against ends up winning the race. It's that simple.
Liability and Liquidity in Back and Lay Betting
Lay betting is not just another useful tool available to sports punters, and it also requires a change of philosophy. Instead of thinking about how much you might win, as you would with a traditional bet, you need to start thinking in terms of your potential loss or liability.
In the case above, should your calculations be incorrect, and Arsenal do go on to win the Premier League, you would lose substantially more than you would win if you were correct. This takes some getting used to for sports punters. But it is important to remember that one aspect remains the same with lay betting. In the long term, if your assessment of the odds is correct, you will profit, whether you opt for the traditional backing approach or a more inventive laying method.
To an extent, betting exchanges will protect you from incurring losses you can't afford. If you don't have the money in your exchange account to cover a potential losing bet, then you won't be allowed to make a bet. This ensures that you won't end up being liable to pay out more than you can afford, although it also depends on your ability to manage your bankroll correctly. In the early years of betting exchanges, some punters incurred big losses because they assumed that lay betting was a shortcut to profit. While it can be a useful strategy, like any of the betting methods, it requires practice.
The other factor to bear in mind about lay betting is liquidity. This refers to the amount of money available in the market. The amount will depend on how popular the particular event is, and you may find that in more obscure sports, you won't be able to make a lay bet at a price that you like because few punters are prepared to bet on it.
The way that exchanges work also means that you won't be able to take bets at silly prices, as the exchange automatically allocates bets at the best price.
Lay Betting and Matched Betting
A full explanation of matched betting is beyond the scope of this guide, but it is worth looking briefly at how lay betting underpins matched betting. Punters who use matched betting as a betting strategy are attempting to make two bets on the same outcome. One half of the bet is a traditional bet, on a competitor or team to win the event, but the other is a lay bet on that same team to lose. The principle of matched betting is, therefore, to bet on a selection at a higher price than you lay it, thus making a profit, in a similar way to stock market investors who aim to buy and sell a stock and hope that the changing price of that stock enables them to cash out with a profit.
A Final Word about Decimal Odds
It is also important to note if you are planning to get involved in lay betting, that betting exchanges use decimal odds rather than fractional odds. This is simply for ease of use. The prices on the exchange vary as people make their back and lay bets, and it is easier to make small adjustments to decimal odds rather than fractional odds.
If you are used to fractional odds, it is easy to convert them to decimal odds. Simply divide the first number by the second number and add 1. And to convert back to fractional, deduct 1 from the decimal, turn the resulting number into a fraction, and then reduce it to its smallest form. If you feel this is too time-consuming, you will find plenty of free online calculators that will do the work for you.
Conclusion
Some punters start laying bets to make a pfrofit, but lay betting is not a secret to riches, and like every other aspect of betting strategy, it is a technique that should be studied and practised before you attempt to use it as the main part of your regular betting portfolio. But by enabling punters to play bookmaker and accept bets, it has added a new dimension to online sports betting. Even if you don't use lay betting on a regular basis, practising it can help you gain a greater appreciation of the betting process and can sharpen your skills.
Other Betting Types