Betting Exchange Strategy
What is a Betting Exchange?
If you're a sports punter or you have an interest in sports betting, you will have heard about betting exchanges. In fact, the development of the betting exchange has been one of the major changes that have affected the industry in the twenty-first century.
But although they have been growing in popularity over the last few years, not everyone is familiar with how they work, or with the basic principles underlying the betting exchange.
BOOKMAKER
DETAILS
REGULATION
LIVE
APP
CASH
OUT
BONUS
REVIEW

bet365

Live Streaming**
Customer Support 24/7
Increased odds

18+

gamblingcommission

ibas

£30

in free bets

Claim Offer
bet365 Review
*New Customers only. Registration required. Bet £10* & Get £30* in Free Bets. Sign up, deposit between £5* and £10* to your account and bet365 will give you three times that value in Free Bets when you place qualifying bets to the same value and they are settled. Free Bets are paid as Bet Credits. Min odds/bet and payment method exclusions apply. Returns exclude Bet Credits stake. T&Cs, time limits & exclusions apply. **Geo restrictions apply. Funded account or bet placed 24 hours prior to event required to access, #AD

Betfair

Betting Exchange
Live results
Live Streaming

18+

gamblingcommission

mga

£100

in free bets

Claim Offer
Betfair Review

Unibet

Unibet TV
Stats & Livescore
Horse racing

18+

gamblingcommission

egba

£40

money back

Claim Offer
Unibet Review
*18+ T&Cs Apply!
Topics on this page
The Principles of Exchange Betting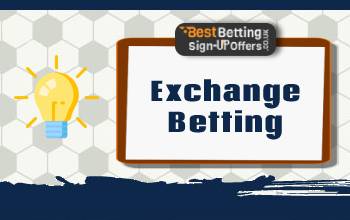 One way to think of exchange betting is that it works in a similar way to online buying and selling sites like eBay. Those sites bring buyers and sellers together, and in the same way, betting exchanges bring together those who want to make a bet and those who are prepared to take the bet.
This requires a shift in thinking if your view of betting is still one of smoking betting shops, or even if you bet with online bookmakers. But it is easier to get used to if you think of an individual bet as being a product, like any other. At a bookmaker, you are buying a commercially produced product from a company that adds in a margin before offering you the bet.
But with a betting exchange, you are buying directly from another punter, with the site acting as the facilitator. In many ways, this type of gambling is simply a formal version of the age-old model of having small bets among friends or family, cutting out the commercial bookmaker entirely.
History of Betting Exchanges
It was that model of friends betting among themselves that inspired the first-ever online betting exchange. In June 2000, Andrew Black and Edward Wray founded Betfair, and the new company proved to be a huge success. In fact, Betfair became so popular that by 2006, it was valued at £1.5 billion and in the same year, it was able to buy out horse racing data company Timeform.
Betfair floated on the London Stock Exchange in 2010 and has continued to grow, even launching its own traditional sports betting operation. And as a result of the success of Betfair, other entrepreneurs have set up alternatives. Not all of the exchanges have thrived, partly because Betfair had such a head start and was able to build up a dominant position, but some, such as Betdaq and Matchbook, have become popular, offering competition to the older site, and there is now a thriving list of betting exchange sites for punters to choose from.
The early years of the exchange betting were dogged with controversy as traditional bookmakers objected to the new model that threatened their profits, and others expressed concern about the ability that betting exchanges gave ordinary punters to bet against competitors. But over the years, many of the opponents of this model have come to accept betting exchanges as an integral part of the gambling industry, offering punters an alternative to traditional betting options.
How to Use a Betting Exchange?
So now you know a little about the background of the betting exchanges, how do they work? In many ways, a betting exchange is the same as a traditional bookmaker. You will have to register your account, come up with a password and deposit funds. You may also be required to verify your identity, as part of the stringent security checks that all sportsbooks have to adhere to in the UK.
But when you've registered and made your first deposit, you will notice some important differences. Open up a market on a betting exchange, and instead of being presented with a list of prices for each competitor, you will see two prices for each option: a back price and a lay price.
For example, if you wanted to bet on a game between Manchester United and Chelsea, with a traditional bookmaker, quoting decimal odds, you might see something like this:
| | |
| --- | --- |
| Manchester United | 1.8 |
| Draw | 3.2 |
| Chelsea | 5.8 |
But the same market on a betting exchange will contain twice as many prices for you to choose from and may look more like this:
| | | |
| --- | --- | --- |
| Manchester United | 1.8 | 1.9 |
| Draw | 3.2 | 3.4 |
| Chelsea | 5.8 | 6.1 |
The price on the left is the 'back' price. If you choose this price, you are betting on your selection to win, just as you would with a traditional bookmaker. But the price on the right is the 'lay' price. If you click on this selection, you are effectively backing against that option, offering the quoted odds for another betting exchange user to bet on.
Let's say you think Manchester United are too short a price at 1.9. If you click on that price, you will be given the option to state how big a stake you would be prepared to accept from another betting exchange user at that price. So, if your stake is £10 and the bet was accepted, you would be liable to pay out £9 if Manchester United won. But if they lost, you would win £10.
Unlike with some other forms of betting, such as Spread Betting, when your losses can exceed the amount of money you have deposited with the company, betting exchanges will not allow you to lay a bet that could result in you losing more than the funds in your exchange account.
One more noteworthy aspect of betting with a betting exchange is that as well as the available prices, the site will also show how much money has been offered by the users at the current back and lay prices, and at the next few prices.
So, for example, in the game mentioned above, the exchange might show that £145 has been staked by punters wanting to back Manchester United at 1.9, but that £4,050 is on offer for 1.92 and $10,150 for 1.94. This can enable betting exchange users to get an idea of the direction the market is heading in and can help you to plan your bets.
So Why Use a Betting Exchange Site?
You may be wondering why you should consider going to the trouble of using a betting exchange, particularly if you have no interest in laying. After all, backing Manchester United on a betting exchange is just the same as backing them with a traditional bookmaker, isn't it? Well, not exactly. For many people, the traditional bookmaker model works well, but there are some distinct advantages to using a betting exchange, which helps to explain their enduring popularity:
Take on Other Punters
When you bet on a betting exchange, you are taking on other punters, ordinary sports fans, for the most part. Of course, there are professionals who bet on the exchanges, but the prices on a betting exchange are set by market forces, not by a team of expert odds compilers, which can mean you have more chance of gaining an edge if you are prepared to do the work.
Transparency
The traditional bookmaking world has an air of mystery and secrecy about it. Bookmakers offer you their odds, and it is up to you to take them or leave them, but you will have no idea how much money they have taken on a particular team, or what information they have factored into their prices.
With exchange betting, you can see at a glance how the odds are changing, and how much money is coming in for each selection. There will even be occasions when regular betting exchange users notice that the price on a particular team is shortening or lengthening significantly, which could signal that a new piece of information is available that is causing the price change.
The Chance to Play Bookmaker
If you've ever wanted the opportunity to play bookmaker, betting exchanges make that possible, as they give ordinary punters the option of setting their own odds, just like the bookies.
In the early days of betting exchanges, some punters found that it was a lot harder to be a bookmaker than they had thought! You should always take care when offering to take bets, but for punters who know their stuff, there can be a real satisfaction to be gained from laying a short-priced favourite and profiting when your judgement proves to be correct.
Trading for a Profit
One of the most popular ways to use a betting exchange is trading. Many customers trade regularly, and there are even professionals who earn their living from exchange trading.
Trading on the betting exchanges is all about predicting which way the price is going to move. With an exchange trade, you are aiming to back a selection before its price falls and then lay it at the new price.
If your judgement is correct, you will be able to lock in a profit whatever happens in the event. Trading can be hard work and requires a lot of discipline, but for those who have the right approach, it can be a profitable way to bet that is not available through traditional bookmakers.
You Get Better Odds on Average
Overall, the odds you will be able to take with a betting exchange will be better than those you will find at a traditional bookmaker. This is particularly the case at the higher end of any betting market, but even short-priced favourites can often be a point or two higher with betting exchanges.
The reason for this is that betting exchanges have a simple, low-cost structure. Bookmakers have to factor a margin into all of their prices, but the betting exchange sites simply deduct a set percentage from each winning bet as a commission.
It is important to consider the effect of the commission when weighing up prices, as this can be as high as five per cent in some cases, but regular users will often find their commission percentage is reduced over time, providing better odds than regular bookmakers.
No Limits on Exchange Betting!
Technically, there are limits on a betting exchange market, but they are not set arbitrarily by the company. The only limit is liquidity. If enough money is available on the market to accommodate a bet, the bet will be matched.
By contrast, one of the perennials - and justified - criticisms of traditional bookmakers is that they quick to limit the stakes of even moderately successful punters, and their decisions are not subject to any challenge. For this reason, many of the bigger sports punters prefer to do their betting through exchanges, which in turn boosts liquidity for everyone else.
Huge Range of Markets
The competitive modern bookmaking world has put pressure on traditional bookies to provide more markets, but their market choice can often be hit and miss. One sportsbook will offer markets on 30 sports, while another will cover 45.
When a bookmaker decides to offer a market, there is often a lot of calculation and planning that goes into the decision, but Betting Exchanges risk nothing when they open up new markets so you will be able to find markets available for almost every possible event and outcome, from obscure sports like Bandy and Pesapallo to political and reality television markets.
Conclusion
The market for exchange betting is less crowded than for traditional sportsbooks, as it can often be difficult for new entrants to build up the necessary liquidity, but a handful of betting exchanges have established themselves and the model is now an integral part of the gambling world. Betting exchanges offer a number of advantages for sports punters, from better odds and a wider range of markets to the ability to play bookmaker and trade for profit. Betting exchanges may not be for everyone, but they can form a valuable component in any sports punter's betting strategy.
Other Betting Types