How Did COVID-19 Impact the Revenues of the World's Richest Teams?
The Coronavirus pandemic has had a profound impact upon lives around the globe. The majority of industries have been affected, especially those in the hospitality and entertainment sectors.
Football, as a sport, is an entertainment business. Financially lucrative and loved by millions from corner to corner of the glove, the beautiful game has taken a huge economic hit due to the pandemic. Clubs at the lower reaches of the footballing pyramid especially, have been devastated due to the lack of revenue in the game generally.
But those at the very top of the game have also been hit. FC Barcelona and Liverpool have reportedly found themselves operating on limited budgets despite being two of the most valuable teams in the world. So, how has the COVID-19 hit season (2019/20) impacted the revenues of the world's richest teams?
The World's Top Five Richest Teams:
The Deloitte Money League, published annually, ranks the world's top twenty revenue generating clubs. Their top five earners from the 2019/20 season (as of January 2021) are as follows:
1

FC Barcelona (La Liga, Spain)

2

Real Madrid (La Liga, Spain)

3

Bayern Munich (Bundesliga, Germany)

4

Manchester United (Premier League, England)

5

Liverpool (Premier League, England)
These data sets break down the financial impact on the above five clubs' revenue for the 2019/20 season into different streams. These are commercial/sponsorship, broadcasting, gate receipts and transfer income.
The projected combined revenue of the three leagues that host the above five clubs is projected to be between 11,248,546,675.50 EUR (c.€11.2billion) and 11,348,980,127.96 EUR2 (c.€11.3 billion) in the 19/20 season.
Of these figures, the aforementioned top five clubs generated 4652077518.15 EUR of that figure - some 41% of the number referenced.
But how did these clubs generate such astronomical figures, and how do they compare to the non-COVID-19 season of 2018/19? Let's discover below.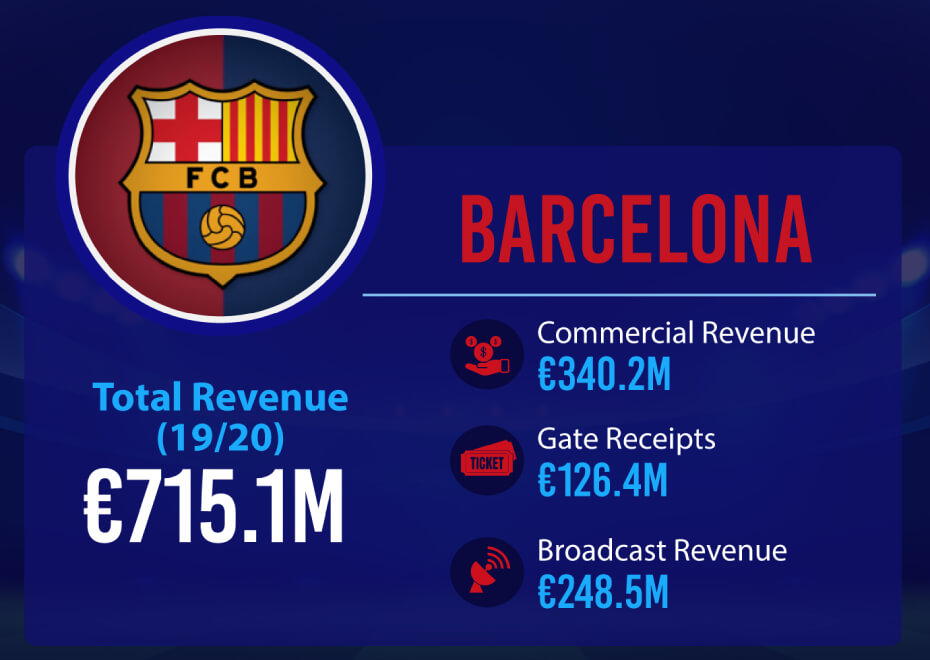 1. Barcelona
Barcelona recorded a 15% revenue fall in the 2019/20 financial year, second only to Manchester United (19%)1. Every stream of revenue was affected, although Barcelona didn't suffer as much as their main Spanish rivals Real Madrid in terms of matchday income. The Catalan side top the Money League list by a mere €114,000, and amid a reportedly huge debt and turmoil at the top of the club, they've done well to do so.
Barcelona is one of the world's biggest clubs and has been for the best part of the late 20 and 21 century to date. However, Barcelona isn't in a good state either on or off the pitch. Deloitte note their fair commercial performance to have been boosted by the launch of Barca TV+ in June 2020, but merchandise sales and stadium tour revenue have severely impacted revenues. The lack of opportunity to fill the 99,000-seater Camp Nou has seen the Catalan giants miss out on some €31.9min the 2019/20 financial year.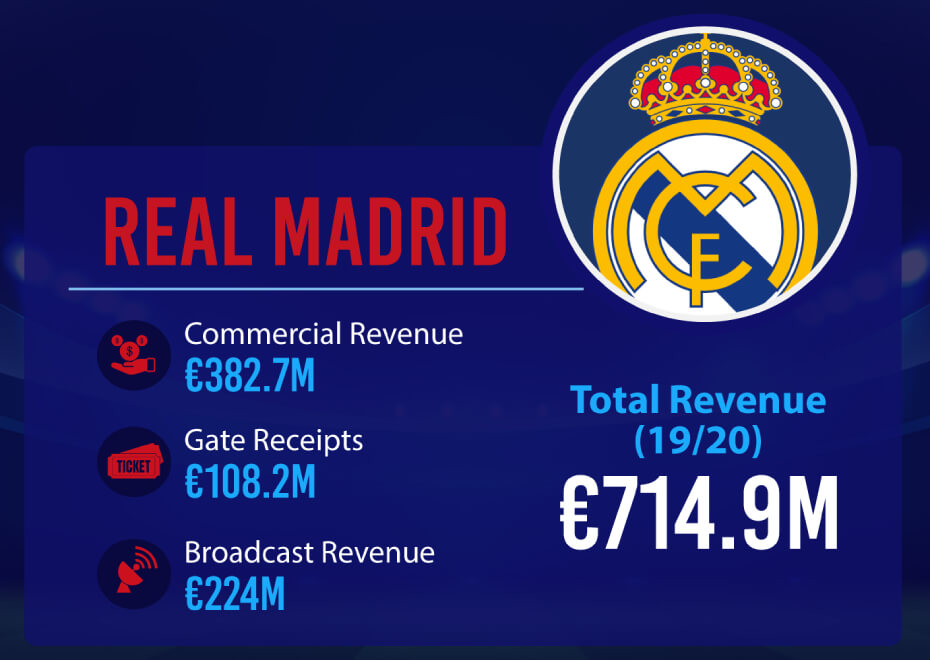 2. Real Madrid
Real Madrid, unsurprisingly, have recorded huge profits despite COVID-19, although they are down on 2018/19 by 6%. The most impressive part of Real Madrid's 2019 revenue review is their commercial figures. Real posted an increase of 8% in commercial revenue (c28.1m EUR), helped by their partnership deal with Adidas being extended to 2028.
Real has the largest social media following of all of the clubs on our list. The club boast some 251.5 million followers across their social media platforms, seconded only by Barcelona (first in the revenue ranking), which only helps their commercial reach - evermore valuable in COVID-19 times. Despite the pandemic, Real Madrid still posted profits of 313,000 EUR for the 2019/20 financial year.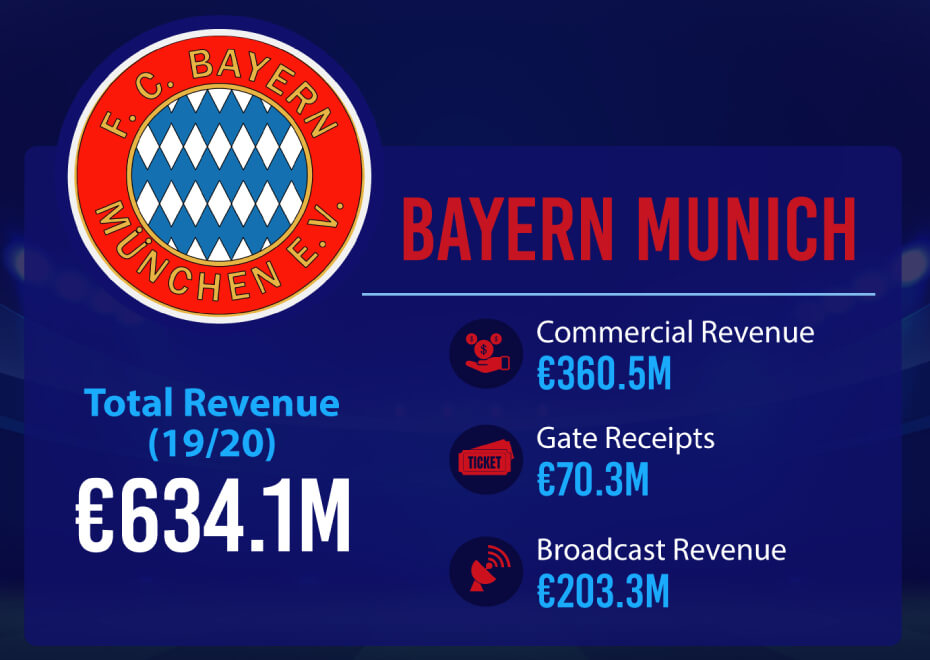 3. Bayern Munich
Like Manchester United, Bayern Munich's revenue is driven in the main part by its commercial success. Bundesliga broadcasting payments are lower than the Premier League, hence Bayern's lower payment than Liverpool despite both sides finishing top of their respective leagues.
Bayern Munich's lowly gate receipts stand out to an extent. There is, however, a key reason as to why Liverpool, whose stadium is much smaller than Bayern's, and Manchester United, whose stadium is of roughly equal capacity, have recorded much higher gate receipts.
Tickets in the Bundesliga generally cost less than in the Premier League. For reference, an adult ticket to watch RB Leipzig (third place in 2019/20) started at £13/15 EUR. At Manchester United (third place in 19/20 in the Premier League), adult tickets started at £31/35 EUR.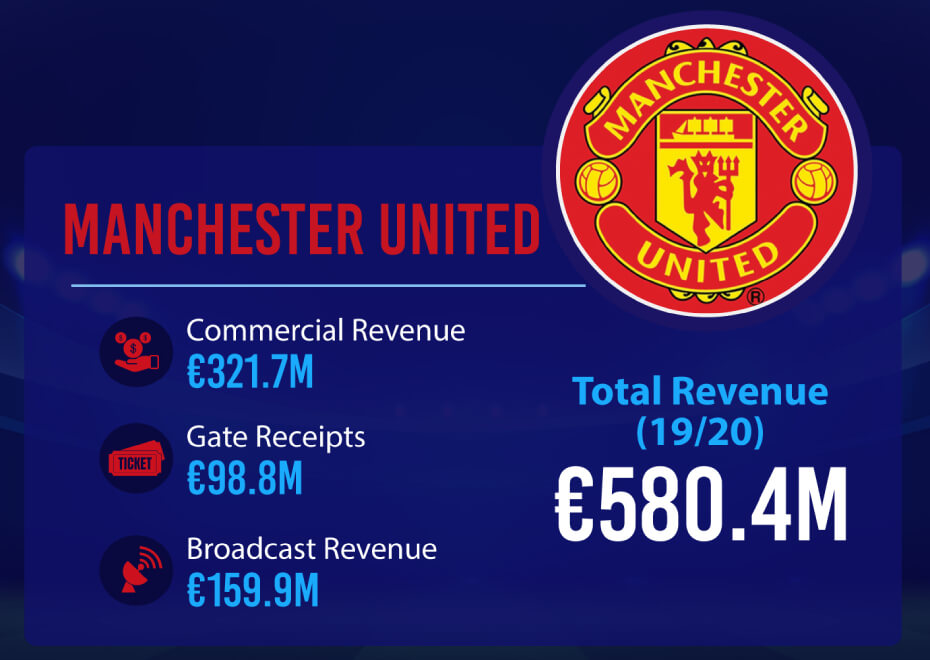 4. Manchester United
Brand image must not be undervalued when looking at commercial value. Despite Liverpool's massively successful year, Manchester United still outperformed them commercially and in terms of gate receipts. The gate receipt figure isn't so tough to explain; Manchester United's stadium Old Trafford has some 20,000 more seats than Liverpool's, meaning even 15,000 empty seats would still generate vastly more revenue than Liverpool.
However, United's social media presence is larger by some 40 million followers across platforms. This is an underpinning factor in their commercial gains. Broadcast revenue is relative to league standing, hence why Liverpool's is greatly increased.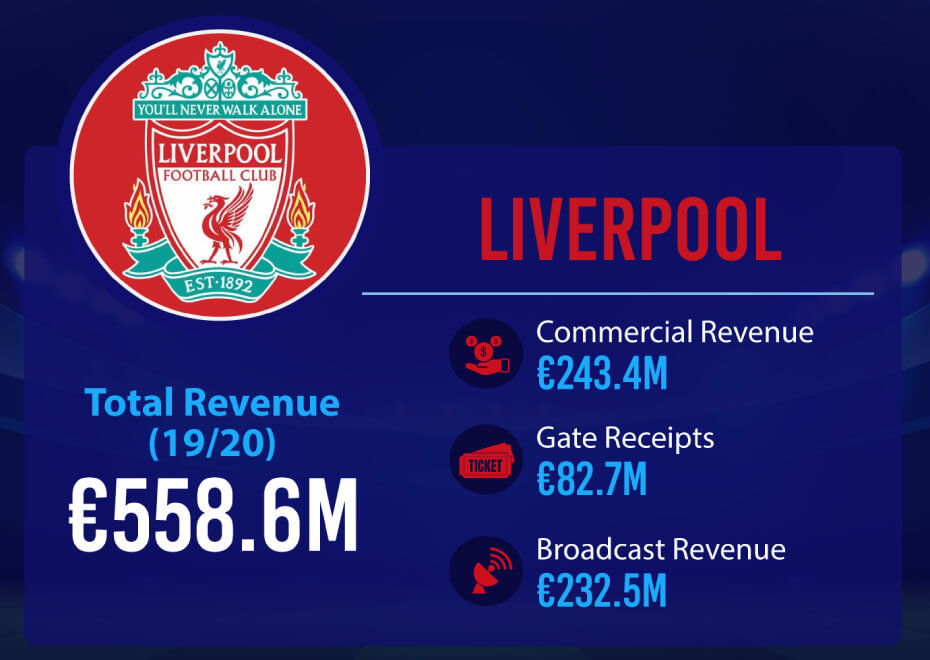 5. Liverpool
Liverpool broke into Deloitte's Money League for the first time since the 2001/02 season. This was helped by their on-field performance during both the 2018/19 season and 2019/20 season, during which they won four major trophies.
Naturally, this increased their global presence which increased the commercial aspect of their revenue significantly from 2018/19. Liverpool's huge broadcast revenues need to be put in the context of the Premier League; for example, in 2018/19, the three relegated Premier League clubs earned around the same in TV revenue as Atletico Madrid, who finished second (c.118m EUR)4. However, the Reds actually earned 68,650,699.83 EUR less from broadcast money than in 2018/19.
Conclusions:
The COVID-19 pandemic has affected the world's top-revenue clubs. The two Premier League sides, Liverpool and Manchester United, generated over 50% of the total broadcast revenues of the top five money league clubs. However, it is important to note that the astronomical Premier League broadcasting revenues (in comparison to other leagues) are often highlighted because mid-to-lower table Premier League sides can actually earn the same as top four sides in other European leagues. Thus, the broadcast comparisons of the higher table sides in the three leagues featured above does not show a gaping disparity.
Commercial revenues are the biggest driving force in total revenues for the 2019/20 top money league clubs featured above. Unlike matchday revenue, commercial revenue can continue to flourish, albeit reduced, during time of COVID, since live televised football (therefore cross-factoring commercial revenues and broadcasting revenues) still presents opportunities for commercial partners.
In other words, although a club who are playing in an empty stadium can't make money from ticket sales, the likes of Adidas or Nike, for example, may still benefit from the clubs playing on television due to the fact that their advertising boards, kit sponsorship and more are still seen in front of millions of people - perhaps more than in stadiums with fans, arguably.
The most surprising case is that of Barcelona. The Catalan giants are reportedly in dire financial straits but have managed to remain at the top of the money league despite all of their revenue streams decreasing. However, judging by Barcelona's on and off field circumstances, it wouldn't be too ambitious to say that their standing in the money league table will fall next year.